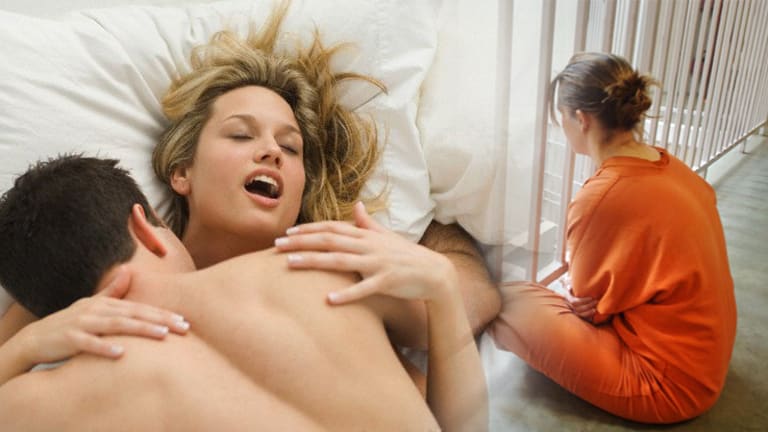 Woman Spends Months In Jail For Having Loud Sex In Her Apartment
A woman was sentenced to jail after her neighbors complained about her having loud sex
Red Lion, PA - A dispute between neighbors ended with 25-year-old Amanda Warfel spending several months in jail, charged with having loud sex in her apartment. According to ABC 6, Warfel has been jailed since March 22 after she was arrested for disorderly conduct for having a loud sexual encounter that disturbed her neighbors.
Warfel was "loudly fornicating and banging around her bedroom to the degree that the victims' dresser and her own bed shook," court documents state.
There was reportedly an ongoing feud between Warfel and the neighbors who reported her to the police. Neighbor Tanya Saylor called police to report that Warfel was having loud sex, that she refused to turn her music down, and that she used profanity and racial slurs towards Saylor.
"We're not a family that gets easily offended. She harassed my kids for two years. We let it go for two years.... I shouldn't have let it go that long. I should have started calling the police a year ago," Saylor told reporters.
If true, this behavior is distasteful, but it is still the type of dispute that should be handled privately between neighbors and their landlords. There is really no need to get the police involved in personal matters like this, especially in an apartment or row-home where there is a landlord who can easily solve the conflict through threat of eviction.
This is not the first time that Warfel faced charges due to the fued with her neighbors. Back in April Warfel pleaded guilty to disorderly conduct and harassment for incidents that took place in February and March, according to YDR.
During a hearing this Wednesday, Warfel pleaded guilty to disorderly conduct and was sentenced to 45 to 90 days in jail, which she has already served, but she will remain in jail on other charges relating to the same incident.
Warfel was ordered to not have any further contact with her neighbors.
District Judge John Fishel also ordered her to pay court costs, stating that he was "not going to put them on the taxpayers."
Warfel still remains in jail and is scheduled for release on June 20th.
[author title="" image="https://scontent-dfw1-1.xx.fbcdn.net/hphotos-xlp1/v/t1.0-9/10527912_10208082564135735_1614536950516142179_n.jpg?oh=3a1f6b3e98ccb13c208591a8dd2bb9b3&oe=574D87F3"]John Vibes is an author and researcher who organizes a number of large events including the Free Your Mind Conference. He also has a publishing company where he offers a censorship free platform for both fiction and non-fiction writers. You can contact him and stay connected to his work at his Facebook page. You can purchase his books, or get your own book published at his website www.JohnVibes.com.[/author]