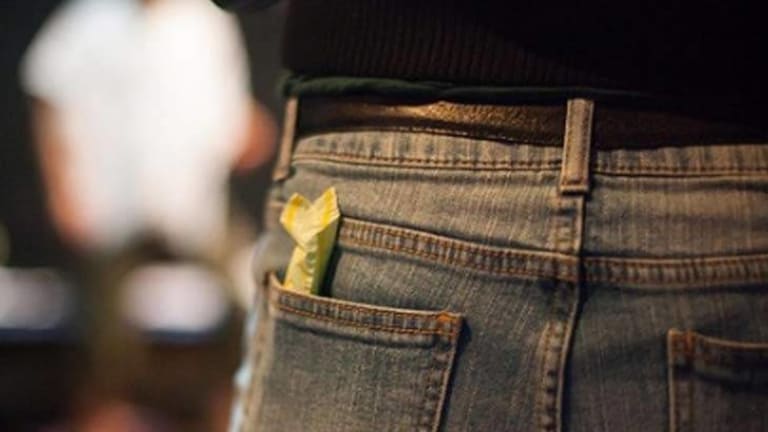 Woman, Visiting Family Member in Jail, Held Against Her Will, Forced to Strip for Prison Guards
After prison guards saw a feminine hygiene product on the victim, they refused to let her leave the jail until they stripped her down, to prove she was menstruating.
Nashville, TN-- A lawsuit filed on Thursday against Corrections Corporation of America, the largest private prison management company in the US, alleges that a visitor at a South Central Correctional Facility in Clifton, Tennessee, was forced to expose her genitalia to prison guards to prove that she was menstruating after she attempted to bring a sanitary napkin into a visit.
On April 20, 2014, the plaintiff was making her way through a second security screening point when guard spotted the feminine hygiene product partially exposed in her pocket. The woman was told she would have to get a "CCA-approved" pad instead. An annoying, but not terribly unreasonable requirement.
At this point, however, the male guard, along with another male guard standing beside him, told her, "But I'll have to make sure you are — I'll have to make sure you are actually —"
The male guards called over a female guard at the point, who upon arrival, asked what was going on. Jane Doe responded that she was on her period, to which the female guard sarcastically responded with "oh, great," before walking into a restroom.
According to the lawsuit, once inside the restroom, the plaintiff asked the guards what they wanted her to do, to which another female guard responded "show me."
The female guard stood infront of Jane Doe at this point, as the first female guard stood by the bathroom door and the two male guards waited outside the door.
The plaintiff then asked again, what the guard wanted to do, to which the guard responded with, "What do you think? Show me!"
Jane Doe then exposed her pelvic area and the guard squatted down so she was eye level with the woman's vaginal area. Once the guard was satisfied that the woman was in fact on her period she was finally permitted to exit the bathroom and go have her visit.
According to the lawsuit, the woman who has chosen to be identified only as "Jane Doe," due to the embarrassing nature of the incident, offered to leave the prison and was not permitted to. She also claims to have offered to leave the pad behind and end her visit early if she needed to change it, urinate in the toilet without flushing and show them her menstrual blood in the bowl, or show guards her used menstrual pad- and all of these reasonable compromises were denied.
Instead, she was sent into a bathroom stall where she was forced to drop her pants and underwear to allow a female guard to examine her vagina in violation of her Fourth Amendment right against unreasonable searches.
The woman says she called and spoke with the head of security at the prison the day after her visit, concerned about being subjected to another degrading search if she returned for another visit during that time of the month, and was told that strip searches of menstruating visitors were standard policy there.
"Plaintiff should not be forced to make the intolerable choice between abstaining from visiting an inmate in prison because she is on her period and visiting the prison with the risk of being subjected to another humiliating and degrading search of her exposed genitalia. The on-going constitutional violation and strong likely hood of future constitutional violations constitutes irreparable injury," the lawsuit states.
Jane Doe is suing for assault, false imprisonment, invasion of privacy, intentional infliction of emotional distress, and more. She is not only asking for damages, but for the court to order the prison to stop unconstitutional strip and body cavity searches.
The Fourth Amendment provides us a right against unreasonable searches. This means there must be reasonable suspicion before the state can humiliate and degrade you with a body cavity search. Not wanting to bleed all over your clothing and therefore carrying personal hygiene products does not provide reasonable suspicion.
Read the full 29 page complaint here.