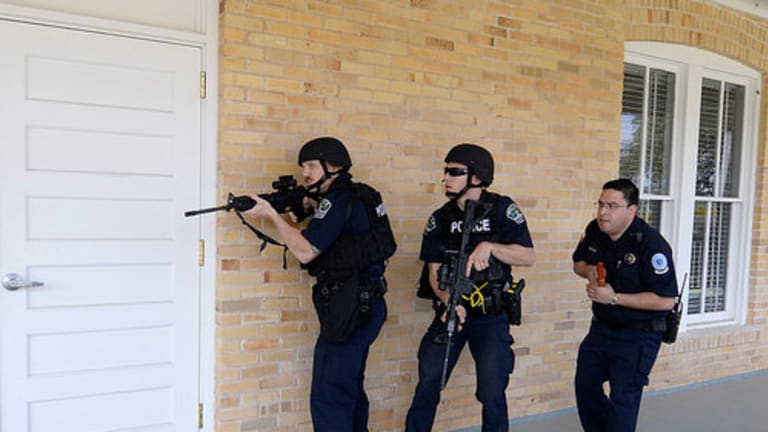 Woman Sues After Becoming Unwitting "Hostage" in a Drill Staged by Local Police
She kept telling him that she had children and to please let her go..
John Vibes
August 1, 2014

Last October, a live shooter drill was conducted at a nursing home in Carbondale, Colorado. The Heritage Park Care Center volunteered to hold a live shooter drill at their facility, in which local police would send in one of their agents to act as an intruder or terrorist, in order to test the response time of the staff and police.
Unfortunately, all of the staff members at the nursing home were not notified about the drill by their employers or by the police, creating a traumatizing situation for a number of workers and residents. One of those workers, Michelle Meeker recently filed a lawsuit against the nursing home and the police department, stating in court documents that she was put into a hostage situation that she believed to be real.
Meeker was taking care of the residents and patients at the time of the drill. Sometime during her shift, she was informed by one of her co-workers that there was a "suspicious" man in the building. When she aproached the man to see who he was, he allegedly showed her a handgun and ordered her into an empty room. Meeker had every reason to believe that she was in a real hostage situation. It was reported that the officer told her under his breath that he was a cop, but Meeker said that she did not believe him, and understandably so.
When asked to comment on the lawsuit, the police department said that informing employees of drills was not their responsibility, and a spokesperson from the nursing home was quoted saying that "Unfortunately, the training exercise alarmed some at our facility."
Meeker resigned shortly after the incident and is seeking monetary compensation for damages from economic loss, mental and emotional distress, and medical bills.
From the text of the lawsuit:
42. When the man was approximately four (4) inches away from her, he put one handon the gun and placed his other hand on her back, and told her again to get in the room.

43. Ms. Meeker began to cry.

44. Her heart began to race and her breathing became shallow and constricted. Ms. Meeker began to shake with terror, fearing that she would never see her daughter again.

45. In a desperate plea for her life, she begged the man not to hurt her, telling him she had a young child.

46. As Ms. Meeker cried and begged for her life, the man said in a hushed tone that this was a "drill."

47. Confused and unable to process what he had said, Ms. Meeker responded, "What?"

48. The man again repeated "This is a drill." Again, Ms. Meeker asked, "What?"

49. The man then said in a hushed tone that he was a Carbondale Police Officer and

that this was a drill, and that he needed Ms. Meeker to get into the room so that he could continue the "drill."

50. In a state of total shock, confusion, and fear, Ms. Meeker complied with his order and went into the room, still not knowing if the man was truly a police officer and still scared that she would not leave there alive.
John Vibes is an author, researcher and investigative journalist who takes a special interest in the counter culture and the drug war. In addition to his writing and activist work he is also the owner of a successful music promotion company. In 2013, he became one of the organizers of the Free Your Mind Conference, which features top caliber speakers and whistle-blowers from all over the world. You can contact him and stay connected to his work at his Facebook page. You can find his 65 chapter Book entitled "Alchemy of the Timeless Renaissance" at bookpatch.com.