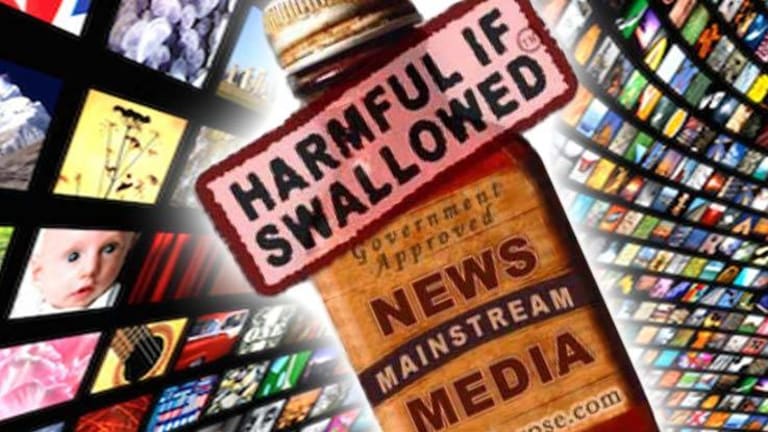 World Class Journalist Admits Mainstream Media Is Completely Fake: "We All Lie For The CIA"
" American Media wants to bring war to the people....this is a point of no return and I'm going to stand up and say it is not right what I have done in the past."
According to a recent Gallup poll, only 4 out of 10 Americans trust the mass media. However, this ostensibly optimistic number is likely due to Americans simply distrusting the mainstream media sect which is not in line with their side of the two party paradigm.
Liberals have a hard time believing FOX News while conservatives have a hard time believing MSNBC. In the meantime, however, according to Dr. Ulfkotte, all of them are manipulating you, for the same goal -- to sell you war.
In an interview with RT, Dr. Udo Ulfkotte dropped a bombshell when he stated that the mainstream media writes under direct CIA pressure.
I've been a journalist for about 25 years, and I was educated to lie, to betray, and not to tell the truth to the public.

But seeing right now within the last months how the German and American media tries to bring war to the people in Europe, to bring war to Russia — this is a point of no return and I'm going to stand up and say it is not right what I have done in the past, to manipulate people, to make propaganda against Russia, and it is not right what my colleagues do and have done in the past because they are bribed to betray the people, not only in Germany, all over Europe.

-Dr. Udo Ulfkotte, a top German journalist and editor and has been for more than two decades
Dr. Ulfkotte is not alone in his claims either. As Zerohedge points out,  multiple reporters have done the same and this kind of truthfulness is something the world needs more of.
One (out of many) great examples of a whistleblowing reporter is investigative journalist and former CBC News reporter Sharyl Attkisson.
She delivered a hard-hitting TEDx talk showing how fake grassroots movements funded by political, corporate, or other special interests very effectively manipulate and distort media messages.
Another great example is Amber Lyon, a three-time Emmy award winning journalist at CC, who said that they are routinely paid by the US government and foreign governments to selectively report and even distort information on certain events. She has also indicated that the government has editorial control over content.
These affirmations of state media control, while a few years old, are more relevant now than ever. Americans are slowly but surely being drawn into World War III as the US continues to saber rattle with Russia and China -- and they are being told to accept it by their televisions.
If these testimonies from former mainstream reporters are not enough, below is definitive proof that mainstream media is scripted.
In 2013, Conan O'Brien highlighted dozens of snippets from news outlets and the resultant video compilation is disturbing, to say the least. The crowd laughs at this footage, but the reality of this video below is incredibly disheartening.
In fact, O'brien has caught the mainstream media in the act more than once.
The question that should be asked here, is where are these talking points originating?
Many media stations are owned by the same company. Obrien's videos touch on a controversial subject, but should it really surprise us that many stories are "scripted"?
Former news reporter Ben Swann points out "In most of these cases where O'Brien uses anchors from different TV stations all over the country reading the exact same script word for word, the source of that script is some kind of wire service. This means those stations have subscribed to AP, Reuters, CNN, FOX, ABC, NBC, etc wire services. In those cases, the wire story will come down and a station reporter or producer will copy and paste it word for word into a newscast. The problem with this policy is that reporters and producers simply take that content as gospel and no one in any newsroom ever bothers to fact check or verify if the wire story is correct. Simply put, in a newsroom, if it is on the wire it has to be true."
Unfortunately, the idea of the CIA manipulating media is not reserved for the realms of tin foil hats. The CIA admittedly conducts operations to brainwash the public through media control. This is known as Operation Mocking Bird.
This CIA operation began as the Cold War ramped up in the 1950's. In an attempt to gather intelligence and influence public opinion, the CIA recruited journalists from across the United States. The program operated for nearly three decades and was deeply embedded in the fabric of American journalism. These compromised journalists provided the CIA direct access to some of the most prestigious media outlets in the country. The scope of the infiltration of the media was vast, encompassing newspapers, periodicals, press services, news agencies, radio and television stations, book publishers and foreign media outlets. A congressional investigation by the Church Committee exposed the vast propaganda program, stating:
"The CIA currently maintains a network of several hundred foreign individuals around the world who provide intelligence for the CIA and at times attempt to influence opinion through the use of covert propaganda."
Respected journalist Carl Bernstein, writing about the depth of the CIA's co-opting of media, wrote in Rollingstone in 1977:
"Some of these journalists' relationships with the Agency were tacit; some were explicit. There was cooperation, accommodation and overlap. Journalists provided a full range of clandestine services — from simple intelligence-gathering to serving as go betweens with spies in Communist countries. Reporters shared their notebooks with the CIA. Editors shared their staffs. Some of the journalists were Pulitzer Prize winners, distinguished reporters who considered themselves ambassadors without portfolio for their country. Most were less exalted - foreign correspondents who found that their association with the Agency helped their work; stringers and freelancers who were as interested in the derring-do of the spy business as in filing articles; and, the smallest category, full-time CIA employees masquerading as journalists abroad. In many instances, CIA documents show, journalists were engaged to perform tasks for the CIA with the consent of the managements of America's leading news organizations."
As the Free Thought Project reported last year, leaked emails from the State Department revealed that Operation Mockingbird is alive and thriving in modern-day Police State USA.
[author title="" image="https://tftpstagingstg.wpengine.com/wp-content/uploads/2016/03/magorist-e1456948757204.jpg"]Matt Agorist is an honorably discharged veteran of the USMC and former intelligence operator directly tasked by the NSA. This prior experience gives him unique insight into the world of government corruption and the American police state. Agorist has been an independent journalist for over a decade and has been featured on mainstream networks around the world. Follow @MattAgorist[/author]