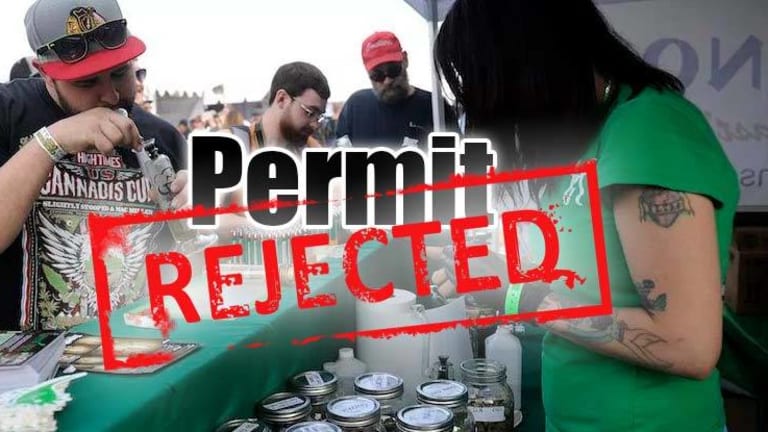 World Renowned Cannabis Cup Fest in Trouble -- Despite Legal Weed, Colorado Shutting it Down
"You got a permit for that?" the 2016 Cannabis Cup is in Jeopardy over government permits.
(WTF NEWS) – Denver's 2016 Cannabis Cup is in trouble after a local Colorado county denied a necessary permit to the event's organizers, High Times magazine.
The Cannabis Cup is a multi-day festival featuring a trade show for businesses and an international celebration of cannabis held yearly on 4/20 in cannabis-friendly areas, finding consistent support in Denver in recent years.
Tuesday, commissioners of Adams County denied the event permit for a popular facility called Denver Merchandise Mart, which is not in Denver city limits but is part of the Denver metro area. Denver Mart has been the most ideal location for the festival that attracted as many as 35,000 visitors a day, which needs indoor space for many vendors and outdoor areas for crowd control to maintain safety.
The commissioners unanimously denied the Denver Mart a permit for the April 16-20 event citing safety concerns from many law enforcement officials. The officials claimed that at last year's festival, too many people were sampling cannabis products publicly. The key complaint from law enforcement was that High Times and Denver Mart had not addressed the issue of on-site public consumption of pot, which is still illegal in Colorado.
Commissioners also noted that last year's crowd at the event exceeded 15,000, the number that fire officials have said is a safe number of people for the site. Event planners told the commission that new rules had been planned for this year to control crowd size, capping attendace at 15,000 daily visitors. The commission was unimpressed and noted lingering issues from 2 years ago which hadn't been fixed. Traffic and pedestrians are also a problem at the site in large numbers such as last year's Cannabis Cup's attendance.
High Times has yet to publicly comment and representatives have not responded to requests for comment. The Colorado Cannabis Cup is High Times' flagship event and one of the biggest cannabis events in the world.
The problem also highlights a continuing issue in Colorado which has been subject to political infighting. Public consumption of marijuana is illegal and consumption in private businesses is prohibited. Many have been advocating for licensing private businesses to allow consumption on-site. While marijuana is legal on private property, businesses cannot allow consumption while open to the public. Private events are used as a way to circumvent the legal status which prevents businesses from allowing cannabis and alcohol consumption as part of regular business. Many popular marijuana clubs have been shut down since the legalization for sale in 2014.
Tourists and locals alike have very few gathering places to consume. Tourists who visit Colorado and purchase cannabis have no place to legally consume usually as hotels and other venues cannot allow it.