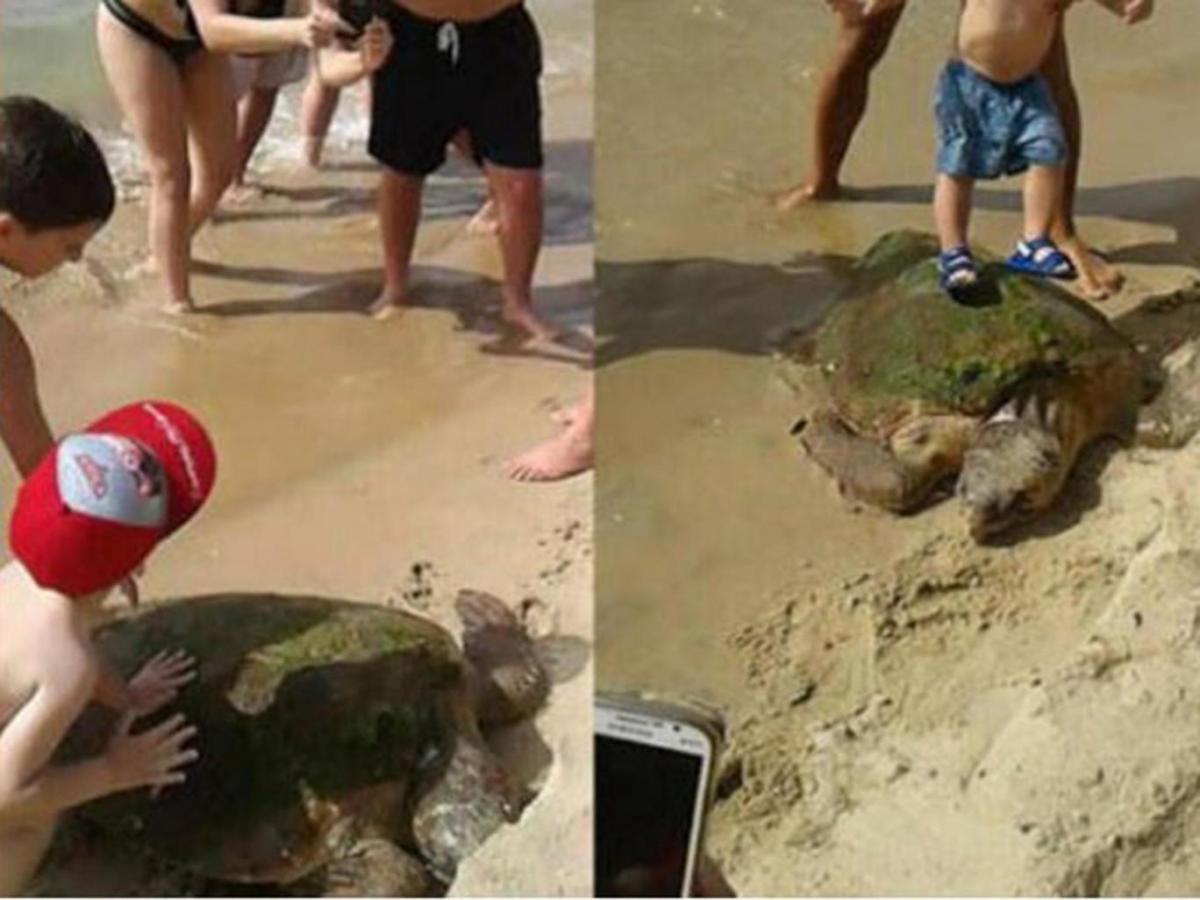 Earlier this month, at an elite vacation spot, an endangered loggerhead sea turtle was pulled from the ocean, beaten, and used as a novelty item for selfies. Humanity has once again shown its callous disregard for life just to show off on social media. Narcissistic 'turtle selfies' led to this poor animal nearly dying.
This display of inhumanity took place on Havana beach in Lebanon just south of Beirut.
Luckily for the turtle, members of the group Animals Lebanon stepped in to save its life. On the group's website, they said they want "to make sure this sea turtle does not die from this unnecessary, avoidable, and illegal cruelty."
In a statement, the charity said, "The damage is visible and evident – the blows and trauma he suffered have broken through the top of his head, and water from the sea has reached his sinus cavities.
"Hopefully, the x-rays can rule out further damage and the blows did not affect deeper into the skull."
The charity's executive director, Jason Mier, told The Independent: "Tomorrow morning we are going to give him another dose of antibiotics.
"He is in the pool and recovering, he is eating well when fed but not yet actively going to get food."
Sadly, as pointed out by the charity, this careless and cruel act happened on World Sea Turtle Day.
People are continuing to disregard life for the opportunity to capture shameless selfies with animals, in spite of how terrible news coverage of these incidents makes them look.
In February, a baby dolphin died in Santa Teresita, Argentina after it was taken out of the water by a swarm of people who wanted to take "selfie" photos with the animal. The horrific situation was documented by multiple phone cameras that were recording. The incident happened quickly, and the dolphin became lifeless after being out of the water for just moments.
The baby dolphin belonged to a rare breed called The Franciscana, or La Plata. This breed of dolphin is only found in Argentina, Uruguay and Brazil. According to The International Union for Conservation of Nature (IUCN), these dolphins are at risk of extinction, with only 30,000 left in the world.
RIP baby dolphin, who died after being removed from the sea for tourist selfies. #Argentina https://t.co/zgfUVb8ObW pic.twitter.com/fJJhHo9zH4

— Nigel Britto (@NigelBritto) February 18, 2016
Earlier this month, a blue shark was pulled from the water and died for no other reason than being stomped on as people took pictures with it.
Last year, according to EcoWatch, Waterton Canyon, a recreation and hiking area in Denver, Colorado, was closed because too many hikers were trying to take selfies with bears. Wildlife authorities in the Lake Tahoe area, Yellowstone National Park and other recreation areas have repeatedly cautioned visitors against getting too close to bears, bison and other large animals.
And, according to Mashable, selfies are also putting humans at risk as more people died in 2015 from selfies than shark attacks. Even governments from Australia to Russia have launched awareness campaigns and closed prominent landmarks because people wouldn't stop taking dangerous photos.
The irony here is even though people are constantly pointing their cameras at themselves — the only true self-reflection taking place is counting the photo's likes on Facebook.
It is understandable to be impressed and inspired by nature and to want to document and learn more about the earth and its creatures. However, it is important to not interfere with nature while we are observing it or be so interested in the buzz the photo will create on social media that you kill an innocent creature.
DASH cryptocurrency and The Free Thought Project have formed a partnership that will continue to spread the ideas of peace and freedom while simultaneously teaching people how to operate outside of the establishment systems of control like using cryptocurrency instead of dollars. Winning this battle is as simple as choosing to abstain from the violent corrupt old system and participating in the new and peaceful system that hands the power back to the people. DASH is this system.
DASH digital cash takes the control the banking elite has over money and gives it back to the people. It is the ultimate weapon in the battle against the money changers and information controllers.
If you'd like to start your own DASH wallet and be a part of this change and battle for peace and freedom, you can start right here. DASH is already accepted by vendors all across the world so you can begin using it immediately.