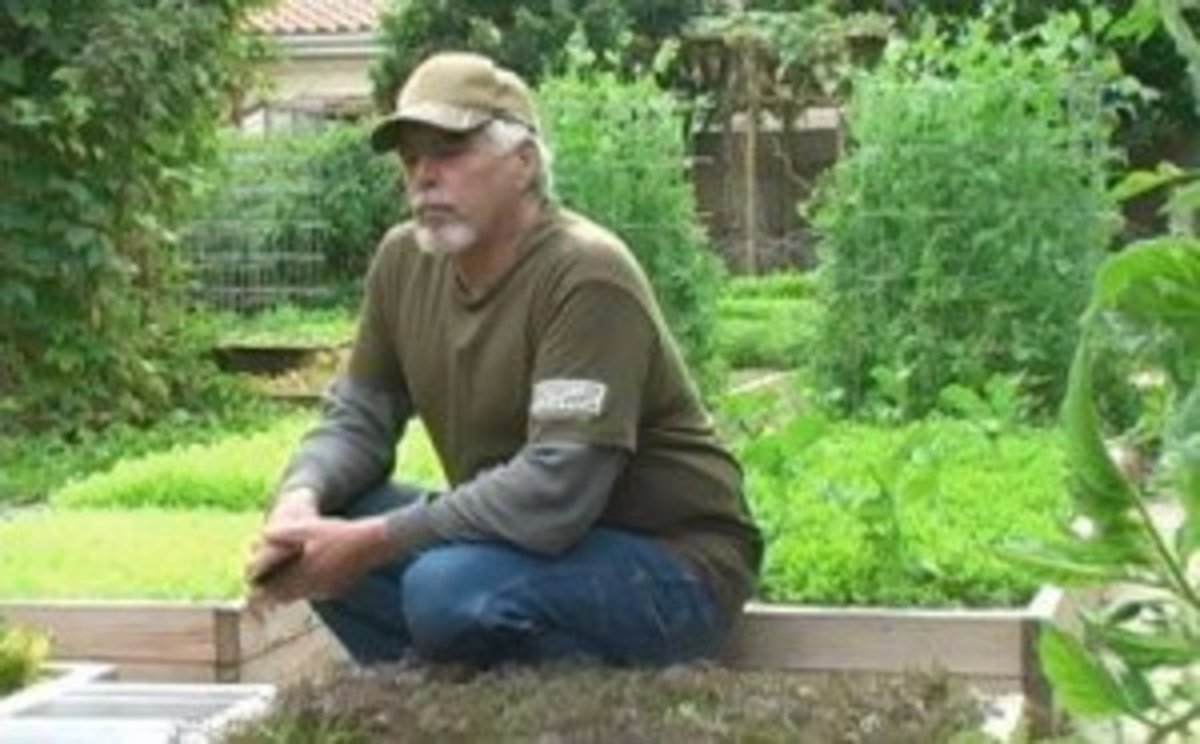 "In danger of being free." That's how Jules Dervaes sums up his journey from a small backyard garden to a super-productive microfarm. It's a low input, highly efficient urban homestead right next to the metropolis of Los Angeles.
 Jules, his son Justin, and his two daughters Anais and Jordanne live in a 1,500 sq. ft. craftsman bungalow on 1/5 of an acre. Here they have a 1/10 acre garden and grow 350 different vegetables, herbs, fruits, and berries. The sustainable plot is complete with chickens, ducks, rabbits, goats, and honey bees.  For two years in a row they were able to produce 6,000 pounds of food.
Their mission is to live sustainably and simply, and they are doing it. 90% of their vegetarian diet comes from the homestead and 2/3 of their energy comes from solar panels. They make biodiesel fuel with used vegetable oil. Their commitment to reducing consumption extends all the way to a hand-cranked radio. They are highly motivated and have a lot to say about the way things are in the world.
"Government can't do it and corporations won't do it," says Jules in the short film Homegrown Revolution.
With a corporatocracy running the show in Washington and millions of Americans addicted to television and fast food, the Dervaes family provides a model of what can happen if we change our priorities. We don't have to rely on a centralized industrial system that is poisoning public health and the environment more than ever with pesticide-laden, GMO food. We can get off the couch and start providing for ourselves.
Most of the Dervaes' food production is for their own consumption, but they do sell excess harvests to local establishments and individuals, and then use that to buy other basics like flour and rice. They are truly one of the most independent family units in the country, with an ever-decreasing environmental impact.
Not only do they provide a model for suburban-style sustainability, but their efforts are beneficial to the community and local schools. The Front Porch Farmstand sells Dervaes' organic produce to neighbors and restaurant chefs. They offer workshops, film screenings, and exhibits at festivals. They host school field trips at the homestead and offer school visits with their "citified" farm animals.
---
By Justin Gardener
DASH cryptocurrency and The Free Thought Project have formed a partnership that will continue to spread the ideas of peace and freedom while simultaneously teaching people how to operate outside of the establishment systems of control like using cryptocurrency instead of dollars. Winning this battle is as simple as choosing to abstain from the violent corrupt old system and participating in the new and peaceful system that hands the power back to the people. DASH is this system.
DASH digital cash takes the control the banking elite has over money and gives it back to the people. It is the ultimate weapon in the battle against the money changers and information controllers.
If you'd like to start your own DASH wallet and be a part of this change and battle for peace and freedom, you can start right here. DASH is already accepted by vendors all across the world so you can begin using it immediately.