"You'll be strung up next to the chimps. On display for the whole world to see."
Ferguson, MO — A new video was released from the hacker group 'Anonymous' Thursday which directly threatens the Klu Klux Klan over their threats to kill protesters.
It was recently reported that the hacker group had taken over the Twitter account of the KKK after these threats of violence against the protesters. 
And finally, here's a unicorn 🙂 pic.twitter.com/1QW0ECu4UI

— :deactivated (@KuKluxKlanUSA) November 18, 2014
Following that, the Grand Wizard of the KKK allegedly released a direct threat claiming that "we will hunt you down and tear those masks from your face. You'll be strung up next to the chimps. On display for the whole world to see. The Klan is to be feared, not threatened."
The two groups have apparently been exchanging words and cyber attacks for a few days now.
https://twitter.com/illuminatiAnons/status/535280671363960832
This latest video seems to respond to the most recent threat by the KKK. Anonymous claims that they will protect the "peaceful protesters," from not only threats from the KKK but from the police officers who may pose a threat to protesters as well.
At the end of the video, Anonymous makes the claim that "We are the law now."
Below is the Anonymous video which was submitted to News2Share Thursday morning.

Thursday afternoon Anonymous issued the following statement, claiming that they have information that may actually link Darren Wilson to a Missouri Chapter of the KKK.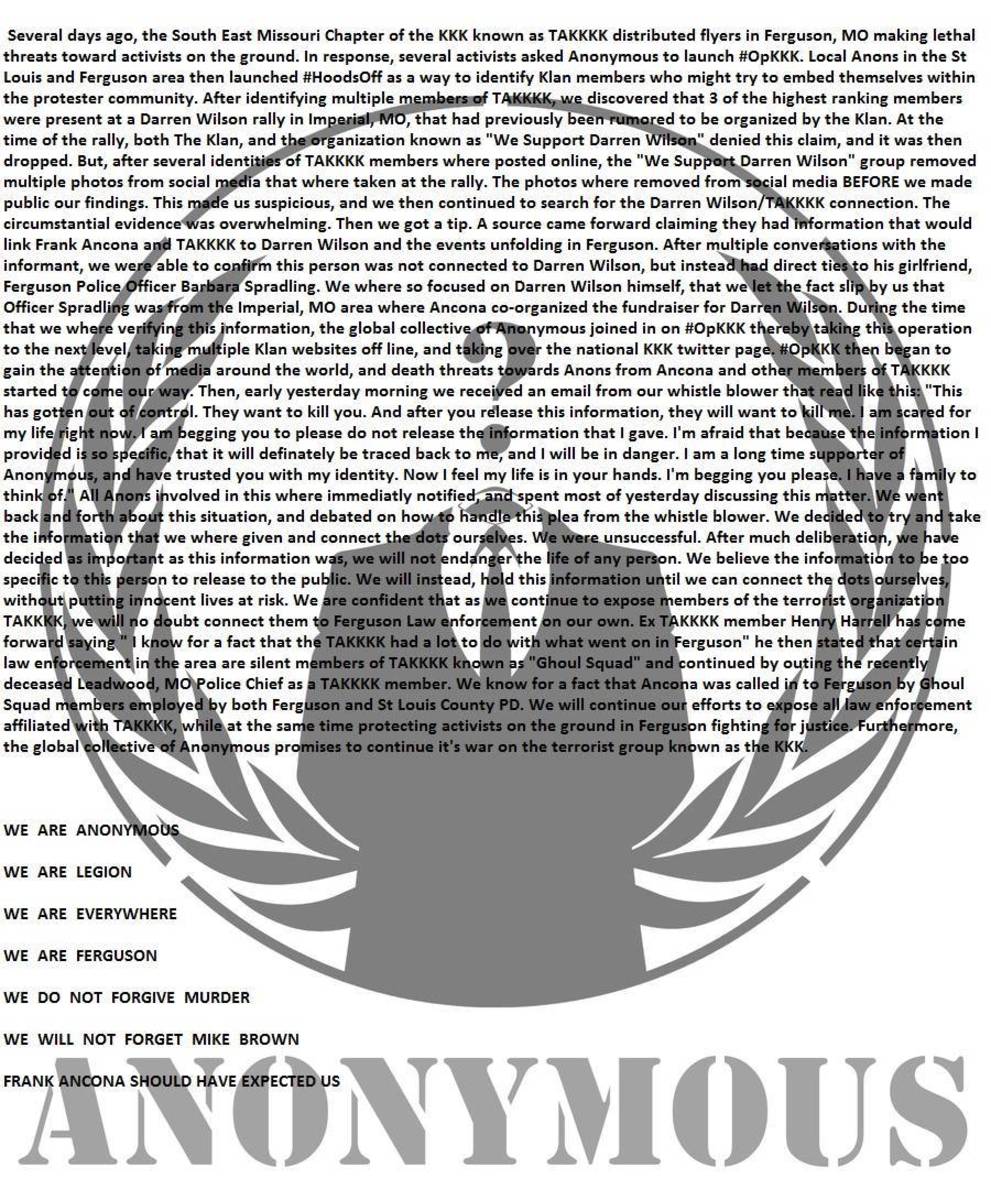 It should be noted that the Free Thought Project stands against such acts as the initiation of violence or destruction of private property, regardless of whether or not it is a police officer or a private citizen.
DASH cryptocurrency and The Free Thought Project have formed a partnership that will continue to spread the ideas of peace and freedom while simultaneously teaching people how to operate outside of the establishment systems of control like using cryptocurrency instead of dollars. Winning this battle is as simple as choosing to abstain from the violent corrupt old system and participating in the new and peaceful system that hands the power back to the people. DASH is this system.
DASH digital cash takes the control the banking elite has over money and gives it back to the people. It is the ultimate weapon in the battle against the money changers and information controllers.
If you'd like to start your own DASH wallet and be a part of this change and battle for peace and freedom, you can start right here. DASH is already accepted by vendors all across the world so you can begin using it immediately.