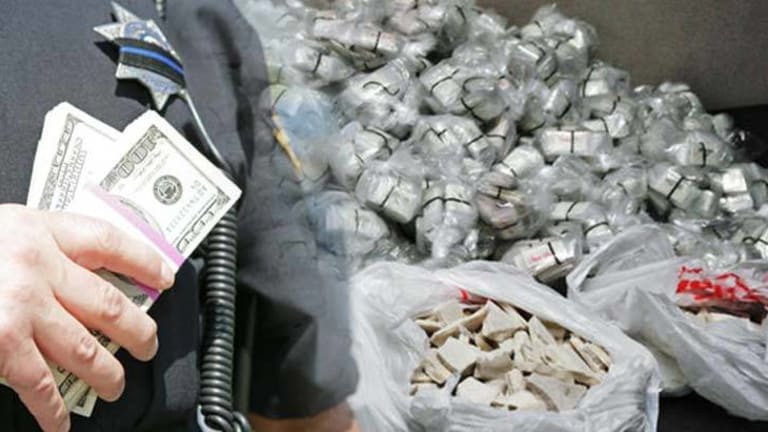 Isolated Incident? Nine Officers Arrested After They Were Caught Running a Massive Drug Ring
A massive drug ring was recently raided in Florida, in which law enforcement officers were caught smuggling large amounts of opiate medication and meth.
Bradford County, FL - 50 people were arrested this week, in connection with a drug smuggling operation, where prescription opiates were transported into a Florida state prison, with the help of prison employees. In total, nine corrections officers were arrested in the operation, which lasted over 11 months and included multiple other arrests along the way.
The investigation was called "Operation Checkered Flag," and it began late last year when local police were tipped off about drugs flowing into Bradford County prisons. Back in June, two conspirators that were thought to be at the head of the drug ring were arrested, both of them were corrections officers. Officer Dylan Oral Hilliard of Lawtey and Maj. Charles Gregory "Chicken Hawk" Combs were each arrested in June, but the smuggling operations still continued.
Deeper into the investigation, police discovered that it was a much larger scheme taking place, involving multiple other corrections officers.
Department of Corrections Secretary Julie Jones said in a recent statement that every employee that was arrested was immediately fired.
The statement read:
"All Florida Department of Corrections (FDC) staff arrested today have had their employment terminated. In the face of today's arrests, it is important for the people of Florida to remember that the Department of Corrections employs more than 23,000 honest and hardworking people across our state. To ferret out the small minority of those who choose to engage in criminal activity, I have communicated a zero tolerance policy for misconduct, and instructed our Office of Inspector General (OIG) to take aggressive and direct action against those who engage in illegal activity. The Department's OIG has worked collaboratively with the Bradford County Sheriff's Office throughout this investigation and will continue to review the circumstances surrounding these incidents in two administrative investigations. Today's actions send a clear message to both our officers and the people of Florida that any FDC employee engaging in criminal conduct will be identified and punished to the fullest extent of both Florida law and Department policy."
Most prisons throughout the country are actually flooded with drugs, and this is largely due to corrupt guards who have an obvious incentive to get involved in the drug trade. Despite the fact that prisons have extremely tight security, people who have positions of authority and power can very easily circumvent that security and use their positions to develop a lucrative monopoly on the drug trade.
The Bradford Police Department also blamed the problem on the doctors who write the prescriptions for the drugs and said that they will be targeted in future operations.
"This investigation is a long way from being over. That number could continue to grow as we keep actively seeking out and following all leads. It's like a spider web, it keeps on growing,"Bradford County Sheriff Gordon Smith said.
John Vibes is an author and researcher who organizes a number of large events including the Free Your Mind Conference. He also has a publishing company where he offers a censorship free platform for both fiction and non-fiction writers. You can contact him and stay connected to his work at his Facebook page. You can purchase his books, or get your own book published at his website www.JohnVibes.com.