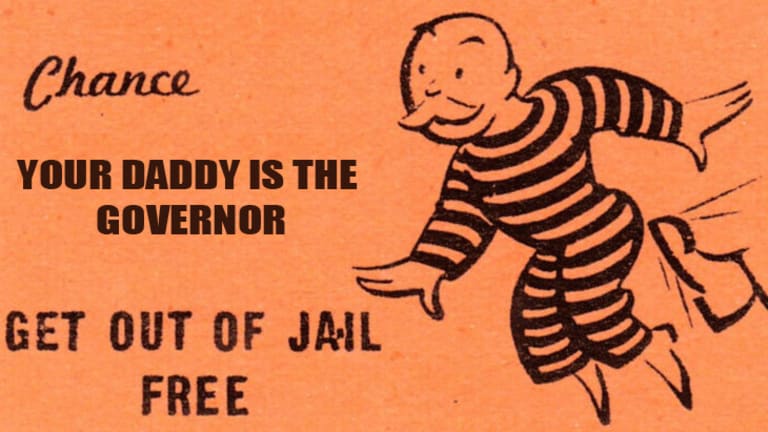 Strict Anti-Drug Governor Pardons His Son For Marijuana Trafficking Charge
"Our drug statutes must put a stronger emphasis and heavier penalties on those involved with the drug trade" (Except for my son)

Little Rock Arkansas - Arkansas Gov. Mike Beebe recently announced that he is planning to pardon his own son for a drug charge that he received over a decade ago.
In 2003, the governor's son Kyle Beebe was arrested for possession of marijuana "with intent to deliver", and was later convicted for the offense, but avoided jail time by completing 3 years of probation and paying over a thousand dollars in fines.
At the time of the arrest, the governor, who was then the state attorney general, said that his son would not receive any special treatment because of family's political affiliations. Now, the governor is saying that he would have pardoned his son much sooner if only he had asked, and if the family wasn't so embarrassed about the arrest.
"I would have done it a long time ago if he'd have asked, but he took his sweet time about asking. He was embarrassed. He's still embarrassed, and frankly, I was embarrassed and his mother was embarrassed. All of the families that go through that, it's tough on the families, but hopefully the kids learn," Beebe told KATV.
While the charge may be long behind him, Kyle Beebe is unable to own a gun and still faces a number of complications due to the felony conviction on his record.
In his petition for a pardon, Kyle admitted to selling drugs, an activity that his father has called for steep penalties against.
"At the time of my arrest I was living in a fantasy world, not reality. I was young and dumb. At that time in my life I felt like I was missing something and I tried to fill that emptiness by selling drugs. I am asking for a second chance to be a better son to my parents and prove to them that I am the person they raised me to be," Kyle wrote in his pardon application.
In 2011, at the Arkansas "State of The State Address", Beebe called for stricter penalties against drug sellers, saying that:
"Our drug statutes must put a stronger emphasis and heavier penalties on those involved with the drug trade, instead of giving equally harsh sentences to those merely arrested for mere possession or use. Previous legislatures have built a grid of sentencing guidelines, a grid that is often manipulated or ignored to put away offenders for even longer stretches of time. Those guidelines must be more closely followed, or perhaps those jurisdictions that frequently exceed the grid should share in th cost of incarceration with our state. My proposed budget adds more than $4 million to help accommodate the Dept. of Community Correction's anticipated larger role."
Governor Beebe is comfortable to admit that his son made a bad decision when he was young, and that he does not deserve to live with the consequences for his entire life, but sadly, Beebe will not give the millions of others in this country the same luxury.
"Kids when they're young do stupid stuff. He was no different. Liked to have broken his mother's heart. His mother and I were stereotypical parents from the different end of the spectrum, she was the enabler that tried to fix everything. I was the nuclear bomb thrower that thought you ought to shoot him. Somewhere between those two extremes was probably the right thing to do," Beebe told reporters this week.

Did he seriously just suggest he wanted to "shoot" his son for selling marijuana?
Beebe will leave office next January due to term limits and he will be replaced by former congressman Asa Hutchinson, a Drug Enforcement Administration official.
John Vibes is an author, researcher and investigative journalist who takes a special interest in the counter culture and the drug war. In addition to his writing and activist work he is also the owner of a successful music promotion company. In 2013, he became one of the organizers of the Free Your Mind Conference, which features top caliber speakers and whistle-blowers from all over the world. You can contact him and stay connected to his work at his Facebook page. You can find his 65 chapter Book entitled "Alchemy of the Timeless Renaissance" at bookpatch.com.