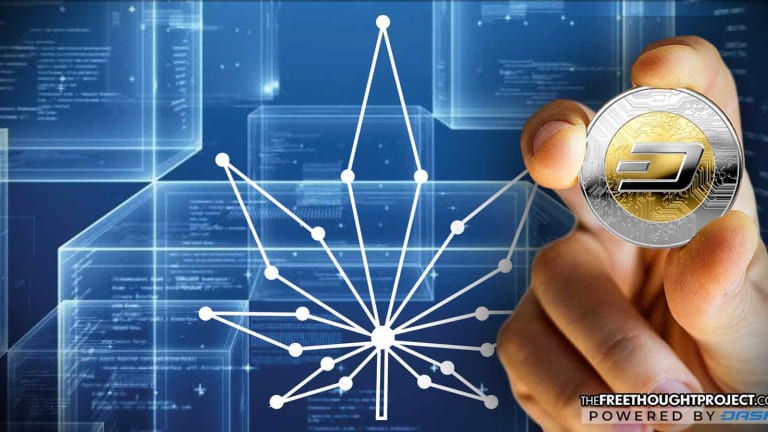 How a Blockchain Startup Is Going to Free the Cannabis Industry from Banker Control
While the federal government continues to attempt to suppress the cannabis industry by cutting it off from traditional banking, one company is turning to blockchain technology.
In states where cannabis has been legalized, dispensaries and retailers still operate in a legal gray area due to the federal prohibition of the plant. One of the biggest issues faced by the cannabis industry is the fact that it is still strictly a cash business since they are unable to collect credit card payments and are blocked off from traditional banking.
Cryptocurrency offers a great solution to these problems, and many cannabis businesses are beginning to adopt the technology out of necessity. Since blockchain technology is still developing, the point of sale options for retail locations have been slim, but a new platform called Alt Thirty-Six is hoping to change that.
This week, Alt Thirty-Six announced a partnership with the cannabis software company WebJoint, which they say will allow for more widespread cryptocurrency adoption in cannabis retail locations.
"Our goal at Alt Thirty-Six—to bring secure digital payment solutions to the cannabis industry—perfectly aligns with WebJoint's innovative, cannabis-specific software technology. We're thrilled to have the opportunity to partner with [WebJoint], providing more cannabis businesses with access to our platform and changing the way the industry as a whole handles payments," Alt Thirty-Six CEO Ken Ramirez said in a statement.
WebJoint Founder and CEO Christopher Dell'Olio said he believes that this could be the solution to the industry's banking woes.
"We are excited to work with Alt Thirty-Six to solve a major issue that the cannabis industry has been facing for quite some time," Dell'Olio said. "I believe this partnership will take cannabis tech to the next level and help all companies across the supply chain accept cashless payments. I have full confidence in Alt Thirty-Six as well as our WebJoint team to execute and offer a reliable merchant solution to our 200+ cannabis POS clients."
WebJoint already provides services for more than 200 cannabis retailers in California, and it will soon be expanding into Arizona and Nevada. All of the locations that are serviced by WebJoint will accept cryptocurrency payments through Alt Thirty-Six.
The service will not be using Bitcoin since the legacy blockchain of the pioneer crypto has been riddled with scaling problems that have resulted in high fees and slow transactions. Instead, these services will utilize Dash, another top cryptocurrency that works much better for point of sale payment systems due to its high speed and low cost.
Earlier this month, The Free Thought Project reported that this technology is making it possible for an entire town in New Hampshire to accept cryptocurrency. In the town of Portsmouth, the currency of choice is Dash, since it works perfectly as a point of sale payment system, with instant transfers and low fees. Last year, the city became the first in the state to install an ATM machine that offered services for Dash.
Steven Zeiler, founder of digital currency company AnyPay, which installed the machine said, "Dash is newer than bitcoin and is more widely used on the Seacoast. Dash offers faster confirmation times and greater privacy than Bitcoin."
In addition to being a cheaper and faster alternative to Bitcoin, Dash also invests in various projects, both charitable and professional, to spread the word about this technology and to show its true potential. In addition to funding alternative media, Dash has also funded youth programs in Africa and food charities in Venezuela.