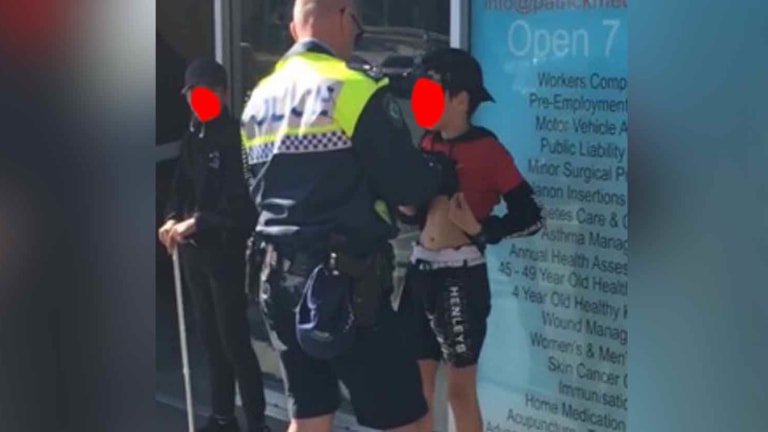 Outrage After Video Shows Cop Partially Strip Search 13yo Boy in Search of Non-Existent Drugs
Video has surfaced of a small 13-year-old boy being partially strip-searched by police after a K9 allegedly smelled drugs on him.
The activist group, Sniff Off -- who raises awareness to the fact that drug dogs are wrong the majority of the time -- posted a still image from a video they received showing a police officer partially strip-searching a small 13-year-old boy. The group says this video is evidence of police overreach in their use of drug sniffing dogs which leads to pointless ritual humiliation.
"We have just received footage of police searching a child in full public view on a street near Blacktown station this Monday," the group wrote in a Facebook post last week. "We have been contacted by a number of people, including members of the child's family, who have confirmed he is 13 years old."
https://www.facebook.com/sniffoff/photos/a.1544426202460852/2409027906000673/?type=3&__xts__%5B0%5D=68.ARCmuI14oKy9Ezih8t67SEHl31sye7_NWjLSqViuaHgBk9QtUxxrWF_oDUGft2BkJKY-p57UQaUwY0hQYINiNTjq14aRqVIJou2PgqA3r3O-TTR1pz4-cGmOXgDlVPwjV8hrrIdkfByHHTdf6uN2iKk3-x36OrgEHSfvV6DhWIyHo_O9BPKGfTMRXM_W8FlMlVimmzGBDR9X0CqvQ4DgKAaJMQSJzzMj5KxYCtuvB6xjHFSRhjY11lQ4QdG9XroPS5NvuM4xWa4SWHn1prOP-iwzNPD13hOfazDNVTeyBZCBTZUj8Qr7tLvvzzPuiBfm4VdRw6gQoMdo4qCIUlX9WkZgMYmd&__tn__=-R
The image has since sparked backlash online after it showed an officer from the New South Wales Police Force in Australia, allegedly strip searching a small boy in search of apparently non-existent drugs.
The group chose not to post the entire video as it could have led to the boy's identity being revealed. However, in the still we can see that the child's shirt is raised up as the officer is inspecting his bare torso.
The Sniff Off page admin reports that the group has received "legal advice that what happened was indeed a strip search, because a general search should only involve full/partial removal of outer clothing, not a shirt, which would expose skin, as occurred in this case."
Sadly, according to the group, this sort of violation happens routinely, as Australia -- just like the United States -- wages a failed war on drugs across the country.
"Anybody who sees the footage would be disturbed by it," said NSW Greens MLC David Shoebridge. "A child of 13 years of age, being partially stripped in public by police. On the face of it, it's a gross infringement of not just his dignity, but this child's legal rights as well."
"There is a prohibition on doing a strip search in a public place, unless it is both urgent and necessary," he continued. "There's nothing to suggest that the officer even turned his mind to that question, before partially removing the shirt of this child in public."
According to a press release from Sydney Criminal Lawyers:
The Greens justice spokesperson obtained figures last December that revealed over the four years prior, NSW police upped its use of strip searches by 47 percent: in 2014-15, 3,735 were carried out, while in 2017-18, there were 5,483. And 64 percent of these searches turned up no illegal items.

In conjunction with the NSW Young Greens, Shoebridge runs the Sniff Off campaign. Separate figures the group has sourced show that in 2018 police carried out strip searches 11 percent of the time following a positive drug dog indication, which compares with just 3 percent of instances in 2011.
"The fact that police are so willing to flout the law when it comes to the rights of children," Shoebridge added in relation to the Blacktown incident, "makes you realize how much work there is to do to reform police strip search powers in NSW."
"There is no other law in NSW that allows a grown man to legally ask a child as young as 13 years of age to remove clothing or pull up their top, so they can view their body," stressed Samantha Lee, head of Redfern Legal Centre's (RLC) police and government accountability practice.
"This practice is antiquated and fails to adhere to child protection principles," the solicitor told Sydney Criminal Lawyers. "It just needs to stop."
Sadly, these are the exact same disturbing scenarios we are witnessing here in the United States as well. As TFTP reported last month, what started out as a fishing expedition disguised as a window tint violation ended with two Hamilton County deputies placed on leave for strip searching and sodomizing a man suspected of possessing an illegal substance.
Deputies Daniel Wilkey and Bobby Brewer stopped Latisha Menifee (driver) and James Myron Mitchell (passenger) as they were driving in a Buick last month. As the stop began, Menifee was immediately handcuffed and brought to the rear of the vehicle. Mitchell was likewise handcuffed and brought to the front of the police cruiser and his following mistreatment was captured on dash cam footage. The stop, they were told, was over window tint. However, they would quickly realize this was not the case.
Not only was Mitchell strip-searched, but while he was in handcuffs, Wilkey and Brewer can be seen groping Mitchell's genitalia in an apparent search for drugs.
Sadly, this is standard operating procedure in the war on drugs. In their relentless pursuit of illicit substances deemed illegal by the state, police will lay waste to the rights and lives of adults and children alike. Shameful indeed.