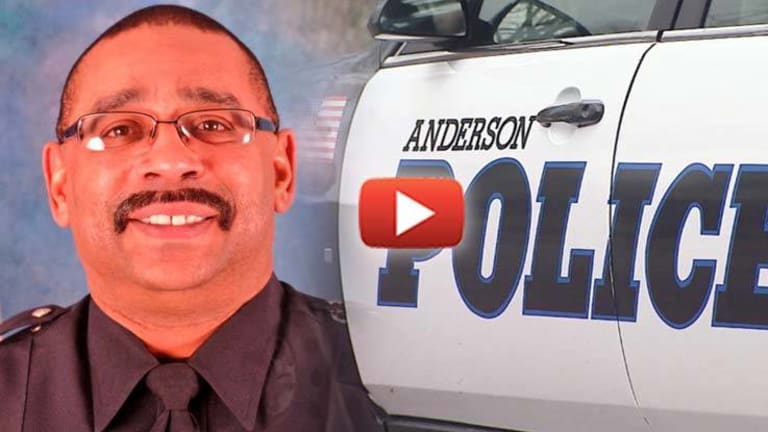 Cop Busted Selling Drugs On Duty, In A Marked Car, and in Uniform...But There's More
Sometimes cops are better at being criminals than the supposed 'bad guys.'
Anderson, IN -- Thursday, Officer Donald Jordan was arrested by the FBI after an investigation of several months revealed that he was selling drugs while on duty. The local police department was tipped off about the issue in July, and surprisingly, the local police chief actually contacted the FBI to have them conduct an investigation. Usually, this is the sort of issue that is swept under the rug by police departments, so this is an extremely rare occurrence.
Jordan was corrupt in many more ways than just selling drugs. In one of the reports against him, it was said that he gave a woman three hydrocodone pills and demanded that she touch his genitals instead of giving him money. When she refused, he reportedly exposed himself and physically forced her hand into his lap.
According to one of the witnesses, Jordan said that he was a "better criminal than he is a cop" and even admitted that he was "corrupt."
After the arrest was made, Anderson Police Chief Larry Crenshaw issued the following statement:
"The Anderson Police Department and its officers are fully committed to performing their duties while maintaining professional standards and adhering to ethical values and personal integrity. These core principles by which we operate reinforce and strengthen the departmental procedures and regulations for enduring standards of professional behavior for all police officers. Allegations of wrongdoing by police officers undermine the public's trust and confidence in law enforcement. That is not acceptable. As law enforcement officers who are sworn to defend and uphold the law, we must maintain a higher level of public trust. The men and women of the Anderson Police Department are dedicated to serving this community, and any charges of misconduct on one officer is not a reflection of the entire force."
"You've heard the old saying one bad apple. But there are a lot of good, dedicated professionals in this police department and my goal is to instill that," Crenshaw later told reporters.
"I sent a department email and I said, 'pray for everybody.' Let due process take place. We're all human. Police are humans. We're not just Kevlar-wearing individuals or robots. We're people. We believe. We cry. And sometimes we do things. What I told the department was, pray for one another, do our jobs, be safe." he added.
Witnesses said that Jordan sold anything from marijuana to prescription pills on a regular basis, but in the sting operation where evidence was collected against him, only a very small amount of pills were confiscated, meaning that he will likely avoid any long prison sentences.
According to court documents, in the sting operation, Jordan agreed to sell an undercover agent 15 Xanax pills for $45, and that is where a majority of the charges are stemming from. No other drugs were found on Jordan at the time.
To make matters even more disturbing, Jordan also works security at a local school, leaving many to wonder if he was selling drugs to children while he was on duty.
Oddly, Jordan has not been charged with sexual assault after he was accused of forcing himself on one of the witnesses.
Jordan is currently on unpaid suspension and is scheduled to appear in court later this week.
" width="790" height="444" frameborder="0" allowfullscreen="allowfullscreen">
John Vibes is an author and researcher who organizes a number of large events including the Free Your Mind Conference. He also has a publishing company where he offers a censorship free platform for both fiction and non-fiction writers. You can contact him and stay connected to his work at his Facebook page. You can purchase his books, or get your own book published at his website www.JohnVibes.com.