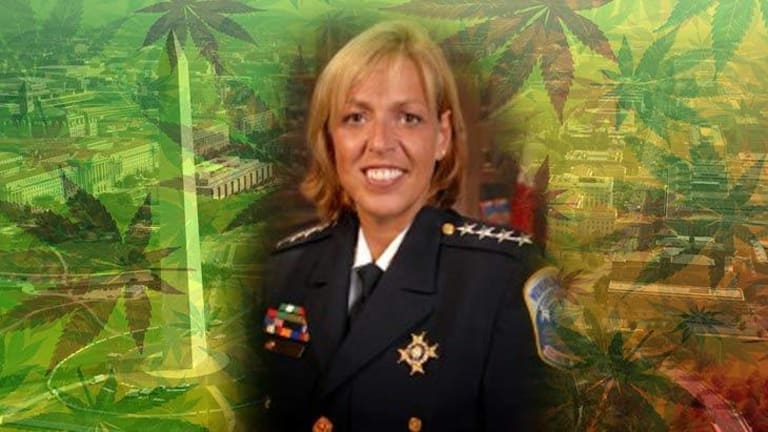 DC Police Chief: Marijuana Arrests "Make People Hate Us," Users Just Want To Relax
In a recent speech, D.C.'s chief of police just raised the bar for police departments across the nation. Those who kidnap, cage, and kill people for this plant should take note.

Washington, DC -Speaking at a recent meeting of the American News Women's Club, Washington D.C. Police Chief Cathy Lanier embraced the city's new marijuana legalization policy. She then made some surprisingly genuine comments about the new law.
In her speech, she said that most marijuana users are non-violent people who just want to relax, and that marijuana prohibition has worked to deepen the divide between the community and the police.
"Marijuana smokers are not going to attack and kill a cop. They just want to get a bag of chips and relax. Alcohol is a much bigger problem. It is not healthy, but I'm not policing the city as a mom, I'm policing it as the police chief—and 70 percent of the public supported this," Lanier said.
"All those arrests do is make people hate us," she added.
The Chief also mentioned that she was a "former smoker," but she did not specify whether she meant tobacco or cannabis.
Cathy Lanier was appointed Washington D.C. Chief of Police in January, 2007, and in 2012 she received a 5-year contract renewal.
Lanier's comments on legalization come just a week after lawmakers threatened to arrest opposition officials if they passed the legalization bill.
Despite those threats, the legalization act went into effect this week, and now cannabis possession will carry a 25$ fine, which most people have been ignoring anyway.
If we compare Lanier's comments to those of Carson City Sheriff Kenneth Furlong, we can see just how divided, and ignorant, law enforcement officials have become over cannabis.
Last week, Sheriff Furlong got the attention of the Free Thought Project after he said meth and heroin aren't the problems, it's marijuana that makes people violent. 
Perhaps Furlong should take some lessons from Lanier and quit kidnapping, caging, and killing people over a plant.
John Vibes is an author, researcher and investigative journalist who takes a special interest in the counter culture and the drug war. In addition to his writing and activist work he is also the owner of a successful music promotion company. In 2013, he became one of the organizers of the Free Your Mind Conference, which features top caliber speakers and whistle-blowers from all over the world. You can contact him and stay connected to his work at his Facebook page. You can find his 65 chapter Book entitled "Alchemy of the Timeless Renaissance" at bookpatch.com.