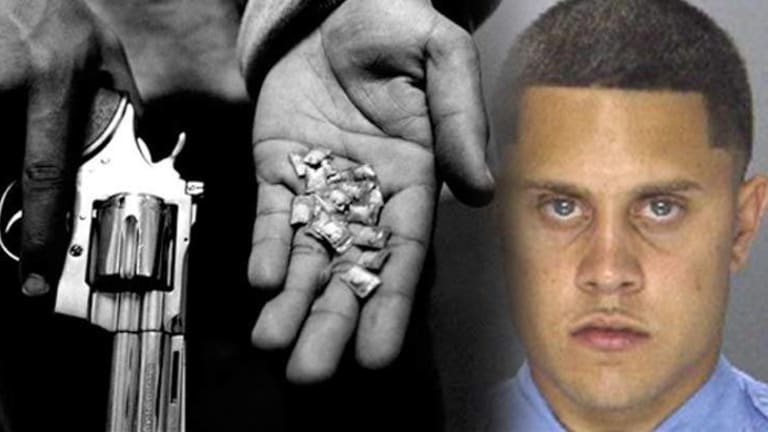 Heroin Dealing Cop Gets 17 Years For Robbing Other Drug Dealers
Using confidential information available only to police, two officers masterminded a criminal conspiracy to rob other drug dealers.

Philadelphia, Pennsylvania - Last week, former police officer Jonathan Garcia was sentenced to 17½ years for setting up and robbing drug dealers. According to
According to federal prosecutor Kevin Brenner, the officer had an ongoing scheme where he would use confidential information to track down drug dealers, and then rob them.
"Garcia was the mastermind of a criminal scheme — basically, they were robbing drug dealers. They were using a confidential source in a way that was against Philadelphia police protocols. And they were using the source to set up drug dealers who they would then stop, search, and ultimately rob of money they recovered from them," Brenner said.
Garcia also admitted to selling heroin. He claims that he was selling drugs and robbing people to feed his addiction to pharmaceutical pills.
Between 2009 and 2012, Garcia and his partner Sydemy Joanis were involved in at least five different robberies, which amounted to several thousands of dollars worth of stolen drugs and cash. In one case, the person that they robbed was not even a drug dealer, but an informant.
Garcia pleaded guilty to distribution of heroin, conspiracy to commit robbery, robbery, attempted robbery, and carrying a firearm during and in relation to a crime of violence. Meanwhile, Joanis pleaded guilty to conspiracy to commit robbery, robbery, attempted robbery, and carrying a firearm during and in relation to a crime of violence, but received a far lighter sentence.
This case should highlight the skewed reality of the war on drugs. When people accept that the voluntary exchange of certain goods is "illegal," it allows society to justify acts of kidnapping, robbery, and even murder, as long as they are carried out by agents of the state.
It is important to point out that the only reason that these men are actually going to prison is because they didn't fill out the proper paperwork, and they didn't bring the loot back to the police department.
Police officers rob people at gunpoint on a daily basis, many times entering their homes without permission. If these activities are done under the color of law, it is nearly impossible for an officer to see any consequences for their actions, even if they are responsible for hurting an innocent person.
John Vibes is an author, researcher and investigative journalist who takes a special interest in the counter culture and the drug war. In addition to his writing and activist work he is also the owner of a successful music promotion company. In 2013, he became one of the organizers of the Free Your Mind Conference, which features top caliber speakers and whistle-blowers from all over the world. You can contact him and stay connected to his work at his Facebook page. You can find his 65 chapter Book entitled "Alchemy of the Timeless Renaissance" at bookpatch.com.