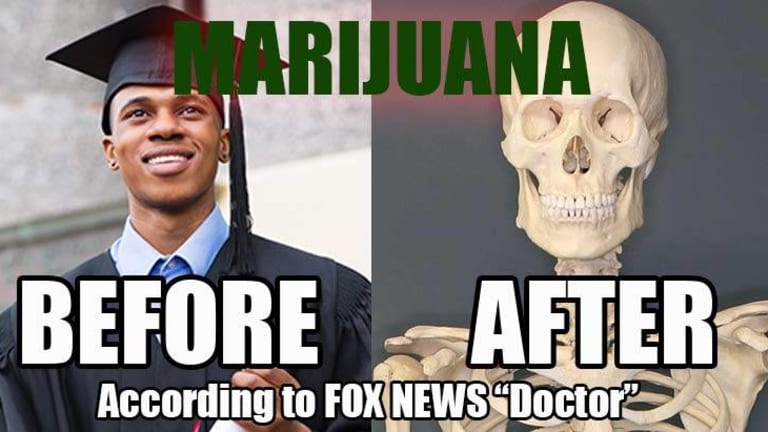 VIDEO: FOX News Doctor Says Marijuana Causes Heart Attacks, Crack Babies, And Overdoses
FOX News doctor tries to debunk a recent study showing that marijuana is far safer than any other drugs. He fails miserably.
Fox News medical correspondent Dr. David Samadi recently appeared on Fox & Friends with Clayton Morris to speak about a new study that showed that marijuana is one of the least lethal drugs available.
Samadi was brought on to the show to discredit the study and speak about the horrors of marijuana, but he wasn't very convincing, and ally made some outrageous claims that made him look completely ridiculous.
"I think it's a very dangerous study, people need to be very careful about not getting the wrong message from this study. They're using a lethal dose as a comparison. For example, they're putting pot against or weed against cocaine or alcohol. We know you need less amount of alcohol to die. So, they're usingdeath to see what's dangerous and what's not," Samadi said.
"They're extrapolating a lot of these animal studies and surveys that doesn't make a lot ofsense and coming with this whole thing that pot is safer. Absolutely not. It's a huge fraud," he added.
His point is entirely irrelevant considering that the purpose of the study was to determine how lethal certain drugs were. Also, there are many other studies pointing to the safety of marijuana and its ability to help with a wide variety of ailments. Samadi instead says that marijuana has unknown long-term side effects but fails to even discuss them or provide an evidence.
Not only did he suggest that marijuana was responsible for heart attacks and overdoses, but he also said that marijuana was responsible for crack babies.
"It actually causes heart attacks. It increases your heart rate. And on and on. We're seeing in Colorado that we had 13 kids that came to the emergency [room] and ended up in the ICU as a result of overdose from marijuana. Now we have crack babies coming in because pregnant women are smoking this whole marijuana business."
After railing against medical marijuana and calling it a fraud, Samadi welcomed anyone who disagreed with him to post on his facebook page and prove him wrong.
"I challenge any doctors, come to my Facebook, convince me how this is healthy for you. I'm 100 percent against this," he said.
Many people have already joined to educate Dr Samadi on his facebook page, feel free to chime in below.
John Vibes is an author, researcher and investigative journalist who takes a special interest in the counter culture and the drug war. In addition to his writing and activist work he is also the owner of a successful music promotion company. In 2013, he became one of the organizers of the Free Your Mind Conference, which features top caliber speakers and whistle-blowers from all over the world. You can contact him and stay connected to his work at his Facebook page. You can find his 65 chapter Book entitled "Alchemy of the Timeless Renaissance" at bookpatch.com.