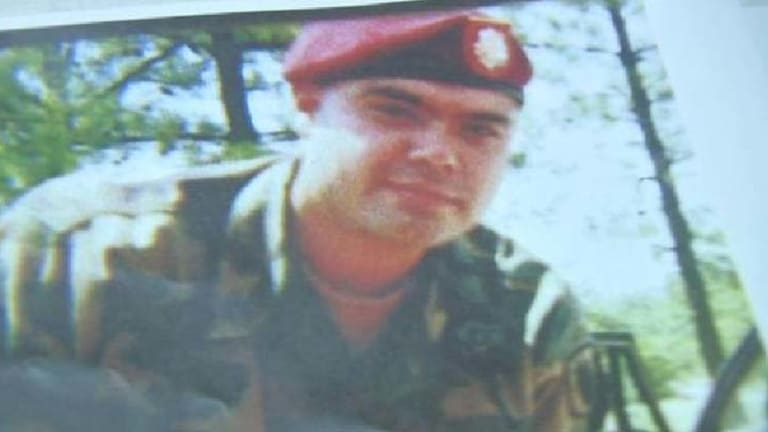 Shameful: Green Card-Holding Iraq War Vet Now Fighting Deportation
An Army veteran with PTSD, who served two tours of duty in Iraq, faces deportation thanks to a renewed interest in targeting immigrants.
Miguel Perez Jr., of Chicago, Illinois, is a battle-scarred U.S. Army War veteran who proudly displays his patriotism in the tattoos he wears; a Statue of Liberty, a battle cross representing a fallen soldier, as well as the U.S. Army Special Forces insignia that reads "To liberate the oppressed."
Even though Perez, who was born in Mexico, served two tours of duty during the Gulf War, the same government he fought for is now trying to deport Perez back to the country of his birth. The 38-year-old is fighting deportation because he was caught with cocaine back in 2012. While in prison, Immigrations and Customs Enforcement (ICE) identified Perez as a candidate for deportation, even though he grew up in the U.S. since he was 8. Perez, who's married, also has American-born children, "anchor-babies" as some wish to characterize them. That fact alone should be enough to keep Perez from being deported, but the government is weighing all its options, nonetheless.
Perez' mother said when he returned home from the war, he got caught up in the wrong crowd. Chicago immigration judge Robin Rosche will decide the Army veteran's fate. His lawyer, Chris Bergin is using a United Nations resolution against torture as defense against the deportation.
According to the Chicago Tribune Burgin "argued in court Monday that his client's life would be in danger if he were sent back to Mexico, where he hasn't lived since he was 8. According to human rights activists and advocates for deported veterans, drug cartels target former U.S. residents, especially veterans with combat experience, to work on their behalf, and those who don't comply are at risk."
The fear is when and if Perez gets deported, he'll be used to push the drug cartels' agendas, possibly being militarized for violent actions on behalf of the organization. Bergin said, "There's a pattern of impunity of the government either participating or looking the other way clearly in human rights abuses," placing the burden on the U.S. government to ensure his safety if deported.
Anastasie Senat, ICE lawyer for the Department of Homeland Security said, "I understand it's a sympathetic case because he has served our country...But it is Congress' law that I'm called to enforce and that we are called to enforce and to respect, and in this situation there is no discretion."
In a recent hearing before the judge, Perez addressed the seriousness of the decision whether or not he gets deported. "This is the same as somebody fighting a life sentence," Perez told Judge Rosche. "The outcome of this determines the rest of my life spent away from my society, my way of life, my loved ones and not to mention, my country. … This is my country regardless of what happens here."
The final hearing took place in February. Judge Rosche has yet to make a ruling with is expected any day now. Perez' immigration case began mid-way through President Obama's second term in office. But with a renewed push to deport undocumented immigrants by the Trump administration, more cases like Perez' will likely arise.
The Army veteran's participation in the illegal drug trade also serves to illustrate just how failed the American war on drugs really is. We've devolved so far as a society that a green-card-holding Army veteran who suffers from post-traumatic stress disorder from blast-related injuries, can potentially be deported for getting caught up in the failed drug war's dragnet.
Whether or not the Trump administration chooses to show compassion towards Perez' case, and intervene, is yet to be seen. All the family can do now is wait, and hope that their father, husband, and son doesn't get kicked out of the country he once loved enough to fight for.