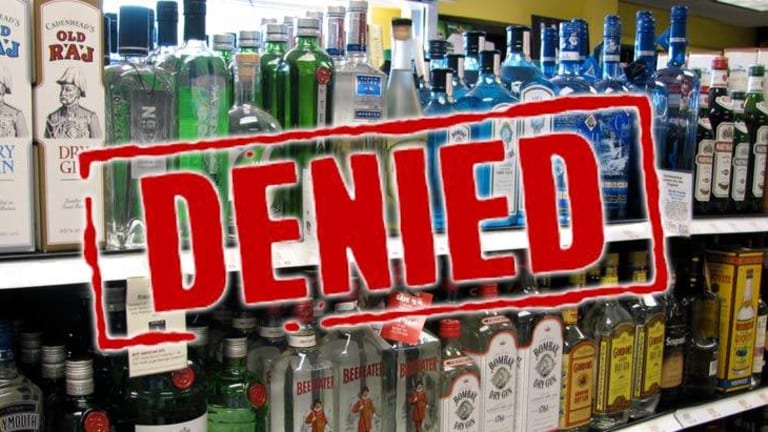 Nanny State: Town Bans the Sale of Alcohol To "Habitual" Drinkers
In what can only be described as modern-day alcohol prohibition, business owners will be required to check if the person they are selling alcohol to is a "habitual" drunkard.
Aurora, IL - The local government in Aurora recently voted to ban alcohol sales for habitual drinkers who are arrested, detained, or even driven home by police for being drunk in public. Politicians in the small city took the idea from Madison, Wisconsin, where tyrants there had issued a similar policy.
Under the new law, individuals that police and fire personnel transport six times or more in a 120-day period, because they are drunk, will be placed on the "habitual drunkard" list. This will prevent them from purchasing alcohol within city limits, and even some other nearby areas.
Local businesses are expected to comply with this new law, even though this will put added responsibility on them, and will likely be nearly impossible to enforce with any accuracy.
Area business owners are also now faced with additional restrictions in the same bill, which limits the hours that they are allowed to stay open. Added into the law is a clause stating that places that serve alcohol are not allowed to open until 9 AM instead of 6AM. Business owners argue that they deal with many 3rd shift customers when they open in the morning, who like to have a few drinks when they get off work.
"I do open at 6 a.m., and I'd like to keep that if at all possible. I don't want to punish anyone who is a law-abiding citizen, works on the third shift and just wants to stop on the way home and have a drink" tavern owner Beverly Bugbee told the Chicago Tribune.
Mayor Tom Weisner defended the restriction on early hours, saying that "Historically, many people in that condition have drinking problems. It's time to quit goofing around. It's time to stop acting like there are a bunch of shift workers who show up at 6 a.m. There are not. We need to set priorities."
These insane restrictions show that alcohol is truly still in a state of prohibition, despite the fact that it may not be as restricted as fully prohibited drugs like marijuana, LSD or cocaine.
John Vibes is an author, researcher and investigative journalist who takes a special interest in the counter-culture and the drug war. In addition to his writing and activist work, he organizes a number of large events including the Free Your Mind Conference, which features top caliber speakers and whistle-blowers from all over the world. You can contact him and stay connected to his work at his Facebook page. You can find his 65 chapter Book entitled "Alchemy of the Timeless Renaissance" at bookpatch.com.