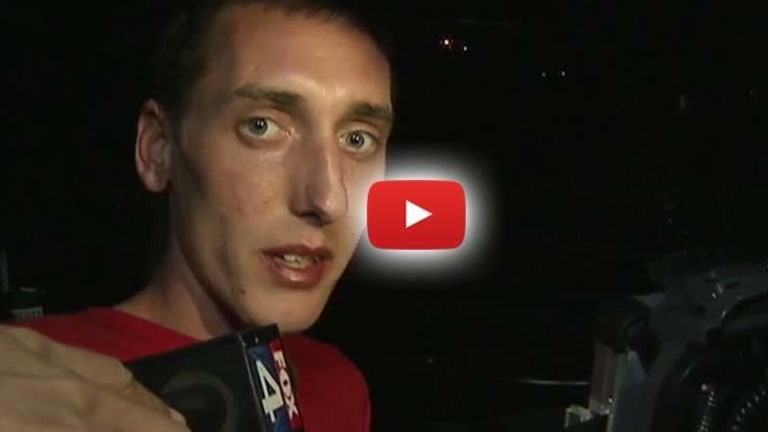 "I'm Done With People Taking My Freedom for Weed" Driver Explains Why He Led Police On Chase
High speed chase suspect tells news crews exactly what he thinks of police and the drug war.
Waco, TX - Running from the police seems to a very controversial subject in the media today, with a prevailing attitude that it is somehow wrong or "stupid" to run from the police. However, running from a hostile force that is likely to use violence against you is one of the most basic and instinctual things that a person can do. This is especially true for people with prior records or people who dress differently because they are automatically profiled by police and treated as if they were criminals from the very start of the encounter.
Last week, a man in Texas who was traveling with a small amount of marijuana decided that he was not going to pull over to be harassed by police when he saw their lights in his rear-view mirror. He ran instead, just as any sane person would do when they encountered a kidnapper or a thief.
His decision resulted in a high-speed chase which exceeded speeds of 100 miles per hour and spanned across five counties.
The driver, Jonathan Davis, was eventually stopped by police after roughly an hour when they blew out his tire with spike strips and then shot at his tires with live ammunition.
After Davis was apprehended, he gave a very entertaining interview with news crews and was unapologetic about his encounter.
When asked why he ran from police, Davis said that he was tired of getting arrested for marijuana and that he knew he would be profiled when the police saw that he had prior arrests for marijuana.
Davis said that he was not sure why police were pulling him over, but he believes that it was because he was using his iPod to change the music on his stereo. Davis also said that he did not like police and that he was tired of them arresting him and taking away his freedom.
Davis also said that he was documenting the chase on his Instagram account while the police were behind him, however, reporters have not been able to find his account.
"Two tires were spiked so he was running on two flats and after he spun out, hit the guardrail, he was surrounded immediately. He got out of the vehicle and was taken down, placed in handcuffs and taken into custody," said McLennan County Sheriff Parnell McNamara told Fox 4.
Davis was shocked that the police shot at him.
"Dude, I was trying to get to San Antonio. I didn't know what roads I was on until they shot my car. I didn't know they was going to shoot at me. I was like, "Damn, they shooting at me—I ain't even got no gun," he said.
"I'm done with people trying to take my freedom because I smoke weed. You can drink it's ten times worse," Davis said.
Local police were not amused by his antics.
"This was a very dangerous situation, he put a lot of people in danger. This creep put a lot of people in danger including his own life," said Sheriff McNamara.
Davis now faces charges for evading arrest, possession of a controlled substance, marijuana possession and driving while intoxicated.
While we would never condone someone being entirely reckless and putting people's lives in danger, we can entirely understand why someone would want to avoid an encounter with the police at all costs. It seems like Mr. Davis is just one of many people who have had enough.
John Vibes is an author and researcher who organizes a number of large events including the Free Your Mind Conference. He also has a publishing company where he offers a censorship free platform for both fiction and non-fiction writers. You can contact him and stay connected to his work at his Facebook page. You can purchase his books, or get your own book published at his website www.JohnVibes.com.