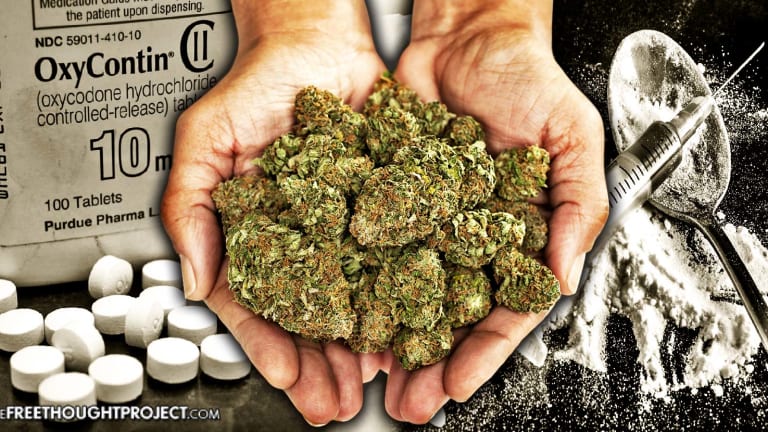 Mainstream Media Finally Admits Cannabis Can Curb Opioid Epidemic
Mainstream media breaks from its Big Pharma financial backers and opioid pushers to publish a report showing the benefits of cannabis legalization.
For many months now, The Free Thought Project has reported, on numerous occasions, that cannabis is being successfully used to treat opiate addictions. And while the mainstream media has been largely silent on the subject of marijuana's promise to help users of these dangerous substances end their harmful addictions, all that has recently changed.
NBC News published a Reuters article titled, "Legalized Marijuana Could Help Curb the Opioid Epidemic, Study Finds" — a move which is a noticeable break from its Big Pharma advertising base. According to recently published cannabis research, marijuana has now demonstrated its ability to significantly reduce opiate and heroin-related deaths, just as TFTP has been reporting all along.
The research focused on those states which have gone against the federal government and legalized medical marijuana. Currently, there are 28 states which have legalized marijuana in some form or another.
Ironically, the researchers weren't trying to find evidence cannabis can curb the opioid problem — they were attempting to determine whether or not hospitals would notice an increase in hospitalizations related to cannabis consumption. According to the NBC News report, "In states that legalized medical marijuana, U.S. hospitals failed to see a predicted influx of pot smokers." However, what the researchers did notice was something they apparently weren't looking for. While the hospitals didn't see the predicted increase in cannabis-related hospitalizations, "they treated far fewer opioid users."
The reduction in opioid-related hospitalizations was down a staggering 23 percent! For comparison purposes, the study examined hospitalization data in both states which have legalized medical marijuana (MMJ) and other states which do not have MMJ programs at work in their state. At least 22 U.S. states still prohibit what the federal government still considers a Schedule I narcotic as powerful as cocaine, heroin, and LSD.
Going further, the number of overdoses dropped as well in those states which have MMJ. "Hospitalization rates for opioid overdoses dropped 13 percent on average," the mainstream news media organization quoted from Drug and Alcohol Dependence, the authors of the study. So, in summary, not only does the legalization of marijuana have a positive impact on opioid and heroin hospitalizations, but it also reportedly has a favorable impact on overdoses.
Echoing what TFTP has been advocating for years, the study's researchers spelled out, in no uncertain terms, the impact MMJ legalization has made on opiate addictions. Yuan Shi, the study's author and health professor at the University of California, San Diego, said, "medical marijuana laws may have reduced hospitalizations related to opioid pain relievers." According to NBC News, Shi said in an email, "This study and a few others provided some evidence regarding the potential positive benefits of legalizing marijuana to reduce opioid use and abuse, but they are still preliminary."
Shi's study, "analyzed hospitalization records from 1997 through 2014 for 27 states, nine of which implemented medical marijuana policies," and appears to arrive at a similar conclusion from four previous studies on the subject. "Her study was the fifth to show declines in opioid use or deaths in states that allow medical cannabis," NBC writes. Even with the seemingly non-biased reporting, naysayers continue to doubt marijuana's ability to heal, now apparently able to help control opiate addictions as well.
One such "No" face is U.S. Attorney General Jeff Sessions who said as late as last week, "I am astonished to hear people suggest that we can solve our heroin crisis by legalizing marijuana," while speaking to a gathering of law enforcement officers in Virginia. Echoing what others seem to think about cannabis, Sessions equated using cannabis to treat opiate addictions as "trad[ing} one life-wrecking dependency for another."
Maybe it's time America's top cop took a more objective look at cannabis — although that is highly unlikely. Sessions would probably not even change his mind if he were to visit Colorado and meets with parents of children who've successfully treated their child's intractable seizures with cannabis — saving their lives — or the thousands of veterans who've saved their own lives by treating their PTSD with cannabis.
Now, it seems, according to at least one mainstream news media source, even heroin and opioid addicts might be able to defeat their addiction if they would simply give back their opiate prescription to their doctor, and start smoking weed provided to them by their street pharmacist. It's time we legalize marijuana at the federal level and end the nonsense. Those 28 states with legal weed have, in effect, ended at least a portion of the war on marijuana and it's time for the federal government to follow suit.