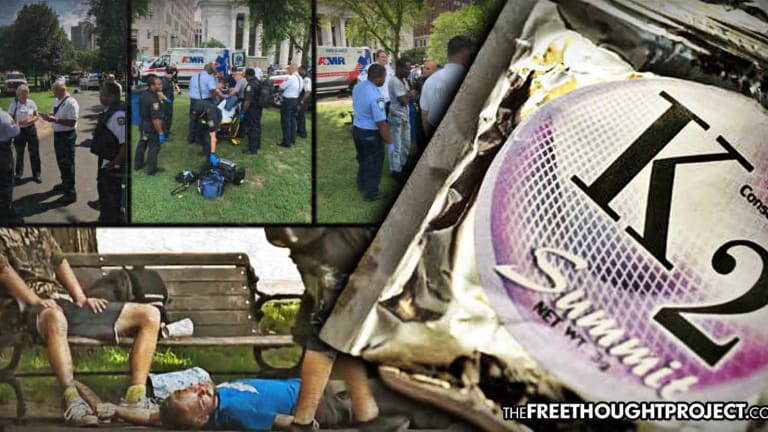 Thanks to the Drug War, a Mass Casualty Incident is Unfolding in US as Dozens OD on Synthetic Weed
Because marijuana is still illegal in most states, dozens of people in only a few hours in Connecticut have overdosed on synthetic marijuana.
New Haven, CT — (ZH) The Office of Emergency Management in New Haven, Connecticut, has reported a mass casualty incident involving at least 71 people who have overdosed from synthetic marijuana with 52 of them near a Connecticut city park, authorities said late Wednesday.
A majority of the overdoses were located in the vicinity of the New Haven Green, a park near Yale University, throughout the day Wednesday, according to officials.
An official told CBS News that 25 overdoses occurred within a three-hour span and that some overdoses were "in multiples of 4-6 at a time." All of those overdoses were in the area of the New Haven Green, said Rick Fontana, the city's director of emergency operations.
At the height of the mass casualty incident, emergency medical services resources, such as personnel and equipment, were overwhelmed by the number of victims stretching across the 16-acre park. No deaths were reported but officials said two people suffered life-threatening symptoms.
The Drug Enforcement Administration (DEA) quickly revealed that the drug was K2, a synthetic cannabinoid, that induces a marijuana-like effect when smoked. The DEA also said there were no additives in the K2.
CBS affiliate WFSB-TV reported that the Department of Public Health delivered 50 doses of Narcan, to replenish the supply after first responders went through an entire stockpile the night before in New Haven. The local broadcaster adds that three arrests have been made.
Fontana told CBS that the city's 911 dispatch started receiving calls just after 8 a.m. about possible overdoses at the park. First responders found multiple individuals suffering from "a multitude of signs and symptoms ranging from vomiting, hallucinating, high blood pressure, shallow breathing, semi-conscious and unconscious states."
"Two individuals had life-threatening symptoms, and the others had non-life-threatening symptoms," he said.
Paramedics were forced to permanently station themselves at Connecticut's New Haven Green on Wednesday as the number of people falling unconscious or vomiting increased following a mass K2 overdose (Sorce/ Daily Mail) 
At the height of the situation, emergency crews were sprinting across the 16-acre park from victim to victim as the number of those falling unconscious or vomiting increased (Sorce/ Daily Mail) 
Those who were treated were suffering from a range of symptoms, including vomiting, hallucinations, high blood pressure and shallow breath (Sorce/ Daily Mail) 
Police believe the person responsible for the overdoses may have been given out free samples of the K2 drug (Sorce/ Daily Mail) 
At one point, officials estimate that four to six people were dropping from overdoses at the same time and 25 of the overdoses happened within a three-hour stretch (Sorce/ Daily Mail) 
A total of 71 people were rushed to various hospitals suffering from apparent overdoses. Another five people refused medical treatment (Sorce/ Daily Mail) 
Officials said the patients were "all different ages" and that Narcan was administered to some.
NBC Connecticut Reporter records the moment when first responders arrived to find one man overdosing on the drug.
Justin Schecker

✔@jscheckerNBCCT

New Haven police chase down a man who appeared to be overdosing after he refused treatment from a medic @NBCConnecticut#NBCCTpic.twitter.com/XHTo7YUbbA
Justin Schecker

✔@jscheckerNBCCT

Moments earlier first responders rushed in to help another man that #NBCCTphotographer @trevor51977 saw fall to the ground on the New Haven Green #NBCCTpic.twitter.com/Pud0JjubYD
Here is another incident that was captured on social media.
Mario Boone, Jou.

✔@MarioBooneTV

Bodies are literally dropping all around me from suspected drug overdoses despite massive effort by #NewHaven cops & fire. I've never seen anything quite this bad happening at once. .@WTNH#CTnews
WTNH News 8 reports from the scene to find a massive police and emergency crew presence.
Scott [email protected]_

At least 45 people overdose on K2 on #newhavengreen
One arrest is made.@MarioBooneTV has a look at the chaos in downtown #NewHavenas first responders rushed from patient to patient@WTNH
Large police presence continued into the overnight.
Ann Nyberg

✔@AnnNyberg

The New Haven green, which borders Yale Univ, has been the scene of at least 76 overdoses. @amy_hudak is reporting the story. This has been going on for 24 hours. Police suspect K2 laced with fentanyl.
Connecticut Gov. Dannel Malloy released a statement Wednesday evening highlight the "very real and serious threat that illicit street drugs pose to the health of individuals":
"The substance behind these overdoses is highly dangerous and must be avoided. The state Department of Public Health and the Department of Mental Health and Addiction Services have been assisting New Haven officials throughout the day. I have spoken with Mayor Harp and assured her that the state remains committed and ready to assist their response efforts wherever needed."
New Haven, Connecticut, Mayor Toni Harp's statement said:
"Today New Haven was on the front lines of a coast-to-coast struggle to combat the public health menace of illicit distribution and use of what appear to be tainted street drugs … I'm extremely grateful for the timely and effective work of first responders who helped revive, transport, and save these victims. I'm also grateful to the state Department of Public Health for its quick response to our request for additional doses of Narcan, the antidote administered to several of those afflicted."