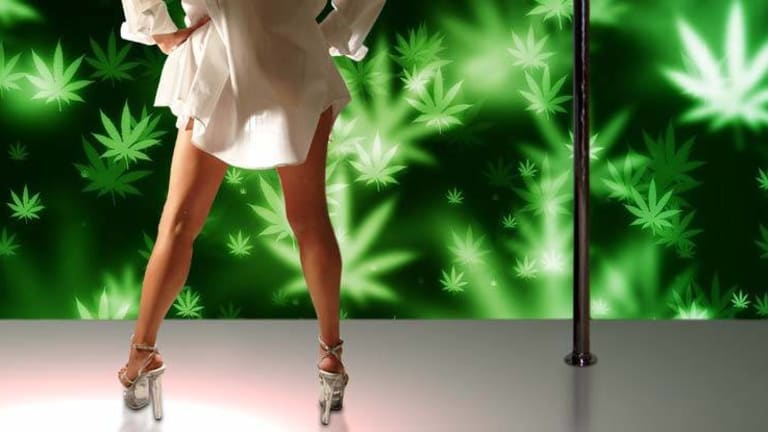 A Sign of the Times -- Mayor's Wife Opens Marijuana Shop...Right Next To Her Strip Club
The wife of a Colorado mayor becomes the first person in the country to own a pot shop and a strip club.
Glendale, CO - A new marijuana shop recently opened in Colorado, but this one is owned by the mayor's wife, and it is located directly next to a strip club, which she also owns. Deborah Dunafon thinks that there will be a lot of crossover for the audiences between the two businesses, and said that perhaps the marijuana could actually make the environment in the area more safe and calm.
The Smokin' Gun Apothecary will now be opened directly adjacent to the strip club Shotgun Willie's, and there will be cross promotions running between both of the businesses to encourage people to patronize both. Selling marijuana and alcohol in the same place is still illegal in Colorado, but this type of set up offers an interesting loophole that allows people to walk back and forth between each building and get the best of both worlds.
Dunafon is now the only person in the country to own both a legal cannabis shop and a strip club.
Some critics have pointed out that there may be a conflict of interest, considering the fact that the mayor was the one who ultimately decided to approve the Smoking Gun's permit.
"This is a clear conflict of interest,"Luis Toro of Colorado Ethics Watch said.
"The concern isn't about the shop opening. It's about him voting," he added.
However, Mayor Mike Dunafon has pointed out that he was not actually married to Deborah at the time.
"They were rookie council people who just happened to say, 'I don't like marijuana." I said, 'You don't get to not like marijuana. It's a legal business,'" Mike Dunafon said.
Lawyer Jeffrey Springer agrees, and recently told reporters that there is no legal conflict of interest.
"He had no stake or financial interest in the Smokin Gun, and he was not married to anyone who had a financial interest in the Smokin Gun. The allegation that he somehow shouldn't have voted is ridiculous," Springer said.
While most residents won't be complaining about the new businesses in their community, it is fair to point out that an average entrepreneur may have not had such an easy time setting something like this up.
John Vibes is an author and researcher who organizes a number of large events including the Free Your Mind Conference. He also has a publishing company where he offers a censorship free platform for both fiction and non-fiction writers. You can contact him and stay connected to his work at his Facebook page. You can purchase his books, or get your own book published at his website www.JohnVibes.com.