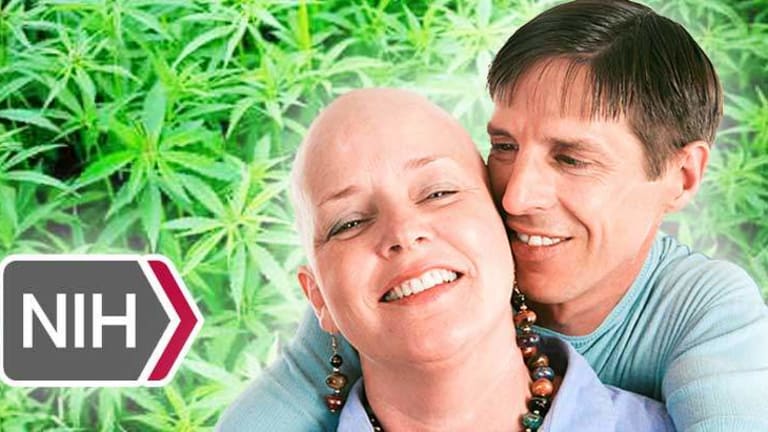 After Decades of Denial National Cancer Institute Finally Admits that "Cannabis Kills Cancer"
It's official, the government can no longer ignore the empirical data. It is high time marijuana is legalized at the federal level.
After decades of claiming that cannabis has no medicinal value, the U.S. government is finally admitting that cannabis can kill cancer cells.
Although still claiming, "there is not enough evidence to recommend that patients inhale or ingest cannabis as a treatment for cancer-related symptoms or side effects of cancer therapy," the admission that "cannabis has been shown to kill cancer cells in the laboratory," highlights a rapidly changing perspective on medicinal cannabis treatments.
In the most recent update to the National Cancer Institute's (NCI) website included a listing of studies, which indicated anti-tumor effects of cannabis treatment.
Preclinical studies of cannabinoids have investigated the following activities:

Antitumor activity
• Studies in mice and rats have shown that cannabinoids may inhibit tumor growth by causing cell death, blocking cell growth, and blocking the development of blood vessels needed by tumors to grow. Laboratory and animal studies have shown that cannabinoids may be able to kill cancer cells while protecting normal cells.
• A study in mice showed that cannabinoids may protect against inflammation of the colon and may have potential in reducing the risk of colon cancer, and possibly in its treatment.
• A laboratory study of delta-9-THC in hepatocellular carcinoma (liver cancer) cells showed that it damaged or killed the cancer cells. The same study of delta-9-THC in mouse models of liver cancer showed that it had antitumor effects. Delta-9-THC has been shown to cause these effects by acting on molecules that may also be found in non-small cell lung cancer cells and breast cancer cells.
• A laboratory study of cannabidiol (CBD) in estrogen receptor positive and estrogen receptor negative breast cancer cells showed that it caused cancer cell death while having little effect on normal breast cells. Studies in mouse models of metastatic breast cancer showed that cannabinoids may lessen the growth, number, and spread of tumors.
• A laboratory study of cannabidiol (CBD) in human glioma cells showed that when given along with chemotherapy, CBD may make chemotherapy more effective and increase cancer cell death without harming normal cells. Studies in mouse models of cancer showed that CBD together with delta-9-THC may make chemotherapy such as temozolomide more effective.
The NCI, part of the U.S. Department of Health, advises that 'cannabinoids may be useful in treating the side effects of cancer and cancer treatment' by smoking, eating it in baked products, drinking herbal teas or even spraying it under the tongue.
The site goes on to list other beneficial uses, which include: anti-inflammatory activity, blocking cell growth, preventing the growth of blood vessels that supply tumors, antiviral activity and relieving muscle spasms caused by multiple sclerosis.
Several scientific studies have given indications of these beneficial properties in the past, and this past April the US government's National Institute on Drug Abuse (NIDA) revised their publications to suggest cannabis could shrink brain tumors by killing off cancer cells, stating, "marijuana can kill certain cancer cells and reduce the size of others."
"Evidence from one animal study suggests that extracts from whole-plant marijuana can shrink one of the most serious types of brain tumors," the NIDA said. "Research in mice showed that these extracts, when used with radiation, increased the cancer-killing effects of the radiation."
Research on marijuana's potential as a medicine has been stifled for decades by federal restrictions, even though nearly half of the states and the District of Columbia have legalized medical marijuana in some form.
Although cannabis has been increasingly legalized by states, the federal government still classifies marijuana as a Schedule 1 drug — along with heroin and ecstasy — defining it as having no medical benefits and a potential for abuse.
The vast majority of the $1.4 billion spent on marijuana research, by the National Institute of Health, absurdly involves the study of abuse and addiction, with only $297 million being spent researching potential medical benefits.
Judging by the spending levels, it seems the feds have a vested interest in keeping public opinion of cannabis negative. Perhaps "Big Pharma" is utilizing their financial influence over politicians in an effort to maintain a stranglehold on the medical treatment market.
Jay Syrmopoulos is an investigative journalist, free thinker, researcher, and ardent opponent of authoritarianism. He is currently a graduate student at University of Denver pursuing a masters in Global Affairs. Jay's work has been published on BenSwann's Truth in Media, Chris Hedges's Truth-Out, AlterNet, InfoWars, MintPressNews and many other sites. You can follow him on Twitter @sirmetropolis, on Facebook at Sir Metropolis and now on tsu.