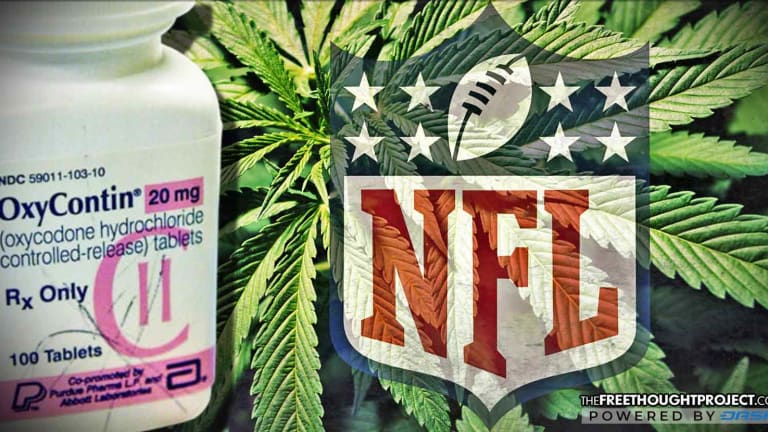 NFL Proves Loyalty to Big Pharma, Forces Players to Use Opioids Instead of Cannabis
The NFL has denied a player's request to use medicinal cannabis, forcing him to use highly addictive opioid painkillers to treat his chronic pain if he wants to continue playing football.
When a professional football player requested to use medicinal cannabis to treat his chronic pain, the National Football League responded by denying his request, proving that it would rather force its players to use highly addictive opioid painkillers instead of a natural plant.
The player who raised the issue is Mike James, 27, a free agent running back who has struggled with chronic pain throughout his career. His first injury came after he was drafted by the Tampa Bay Buccaneers in 2013, and he broke his ankle and had to have surgery. He told CNN that he found himself becoming dependent on the opioid painkillers he was prescribed for recovery.
"The routine I had was, my wife would give me some pills and I would try to sneak and get extra, get more," James said. "When those ran out, I'd try to search as much as I could to get more—mostly asking around, trying to get it as fast as possible from people that I knew that had it."
James said he had always been wary of drug addiction after he saw the crippling effects it had on family members. "Drugs tore up my family," he said, noting that he was terrified by the knowledge that his actions could hurt his two young sons and "the notion that I would do what my father did to me, to my boys."
When James' wife, Aubrey James, proposed the idea of using cannabis to treat his chronic pain, he said he was immediately against it because he saw marijuana as one of the dangerous drugs he needed to stay away from—unlike the medications prescribed by doctors that created his addiction in the first place.
Mike James eventually tried cannabis in 2014, and he told CNN that he was amazed by the impact it had, both in treating his pain and in relieving his dependence on opioids. "I never had something where I could be coherent and still have pain relief," he said.
James has continued to use cannabis to treat his pain, but because it is considered an "illegal substance" by the NFL, his choice to use a natural plant instead of pills manufactured by the pharmaceutical industry has put his career in jeopardy.
In an attempt to work with the NFL and to set a precedent for other players, James became the first player to file for a Therapeutic Use Exemption (TUE) for cannabis last month. The league denied his application this week, serving as a reminder that it is also denying a natural treatment to players who struggle with chronic pain.
"By them denying me a TUE, they're really giving me no other options to continue playing football," James said, noting that the future of his career could be in jeopardy. "To be able to play this violent game and deal with my chronic pain, I need an option for that."
James also told NJ.com that he believes in the cause enough to push back "against the establishment" in an effort to secure change for his fellow players.
"I know right now I'm doing something that makes some people uncomfortable, and that I'm going against the establishment to push for a change in the way they look at this medicine," James said. "I know there's a greater purpose here for a lot of guys in this league who I consider family members."
More than 1,800 players came together to file a massive lawsuit against the NFL's 32 teams in 2015, alleging that doctors and trainers supplied players with powerful narcotics like candy and failed to inform them of "the long-term health effects of taking controlled substances and prescription medications in the amounts given to them."
The lawsuit claimed that the teams focused on the goal of maintaining "the return to play practice or policy by ensuring that players are not told of the health risks associated with taking medications." As a result, the 53 players on each team were prescribed around 5,777 doses of anti-inflammatories and 2,270 doses of narcotics, which led to each player receiving an average of 150 doses of drugs each year.
The NFL released a report in July 2017, claiming that it was willing to study the use of medical cannabis for pain management. However, the results of that decision remain to be seen and it appears that the NFL is still choosing to stay loyal to Big Pharma—at the expense of its players—threatening players who refuse highly addictive opioids with arrest and expulsion, instead of allowing natural treatments that could vastly improve the players' lives, while treating their pain.