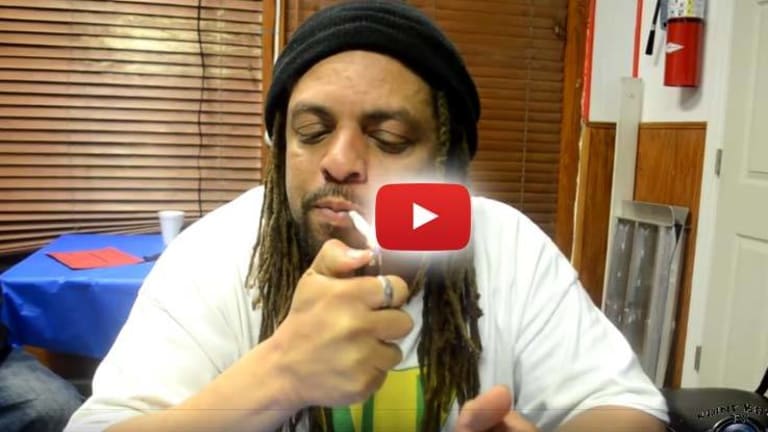 NJ Weedman Lights Up Joint Immediately After Arrest, Vows to Give Prosecutor Legal "Ass Whooping"
Drug war crusaders are trying to shut him down even though city lawmakers have honored his establishment for its economic value.
Trenton, NJ – Well-known cannabis advocate, NJ Weedman, is vowing to beat the system again after an armed raid was conducted at his restaurant and religious temple last week. Authorities allegedly found about $19,000 worth of cannabis and arrested Ed Forchion (NJ Weedman) and 10 others.
Charges include possession and distribution of a "controlled dangerous substance," various counts of "intent to distribute," fortified premises, possession of drug paraphernalia and maintaining a narcotics nuisance.
Mercer County Prosecutor Angelo J. Onofri claims that the raid was in response to "complaints from the community… about the constant foot traffic in and out of the establishment at all hours" and that "Forchion was distributing marijuana from the premises."
However, Forchion says authorities "exaggerated and misconstrued the goings on at the temple." Business curfews violate his religious liberties, according to a federal civil rights lawsuit filed by Forchion last month. He also said the "fortified premises" charge is based on surveillance cameras installed to show that police were lying about alleged disturbances on his premises.
As for the other charges, NJ Weedman does not deny that cannabis use goes on at Liberty Bell Temple, although he says any "distribution" is just free sharing of the therapeutic plant. Recreational cannabis use is banned in New Jersey, although limited medicinal use has been legalized.
Forchion has beaten the system in the past and says he is still "conviction proof." He plans to pursue jury nullification, where the jury can return a not guilty verdict if they believe the law is unjust. Astonishingly, New Jersey judges do not allow defendants to inform juries of this right to jury nullification, but that hasn't stopped Forchion before.
"He defended himself in a 2012 trial on drug-dealing charges but was found not guilty after a retrial.

In 2003 he convinced a federal judge to release him from prison after he was jailed for advocating marijuana law reforms, which officials claimed violated his parole. Forchion had pleaded guilty in 2000 to drug dealing charges after he and his brother picked up a 40-pound package of marijuana that had been shipped by FedEx."
The NJ Weedman took his defiance to Facebook less than 30 hours after his arrest, posting a video of him rolling a joint and lighting it up.
"Fifteen years ago I said I was never going to take a plea," he says on the video. "Since then I've beaten the Burlington County Prosecutor's Office twice. And now Mercer County has lined up for their ass whoopin'."
Two days after the arrest Forchion invited reporters to his establishment, which consists of an eatery called the Joint, an adjoining smoke shop and the Liberty Bell Temple. Located across from City Hall and two government office buildings, it is a thriving spot in an otherwise run-down area.
The restaurant is such an important investment in the city that the legislative district's delegation honored the Joint for the "culmination of an extensive planning and building process, which has been brought to fruition only through the extraordinary labors and efforts of a number of devoted people whose commitment to NJ Weedman's Joint has been exceptional and unwavering."
About 100 patrons a day visit the Joint, including government workers. Besides providing good food to customers and freely sharing the therapeutic benefits of cannabis, Forchion offers food and shelter to the homeless.
"Among Forchion's most ardent supporters is Jay Santos, a 60-year-old Republican committeeman from Brick, who takes marijuana for his back pain, a condition not covered under the state's medical-marijuana law.

"Look at the good he's doing for this neighborhood," Santos says, leaning on his cane. "He's a benefit to this community, not a detriment."
Hopefully this sentiment will be reflected in the jury at the NJ Weedman's trial. This will be an important opportunity for the people to challenge the unjust prohibition of cannabis through jury nullification.