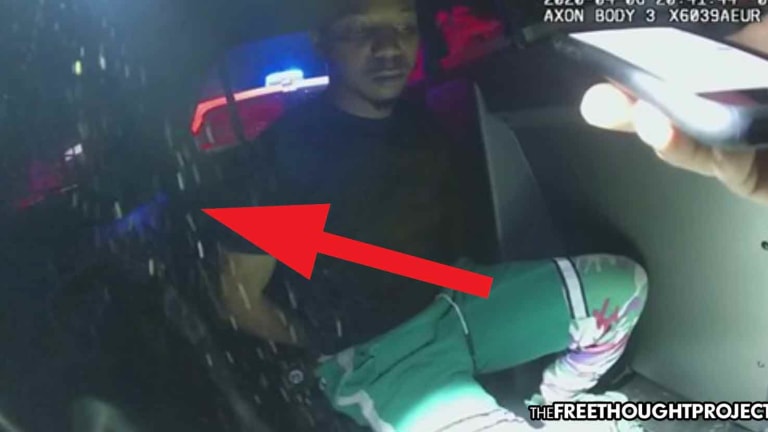 WATCH: Cops Claim Ashes of Dad's Murdered Daughter is Meth, Dump Them on the Ground
Drug war addicted cops mistook a grieving father's murdered daughter's ashes for meth, dumped them out and field tested them for drugs.
Springfield, IL — Body camera video released this week shows the extent in which police will go to justify their existence in the war on drugs — up to and including desecrating the the remains of a little girl.
In 2019, Dartavius Barnes, the father of Ta'Naja Barnes, experienced every parent's worst nightmare when he found his daughter unresponsive in her home. She would later be pronounced dead in a Decatur hospital and an autopsy would reveal she was murdered.
Ta'Naja's mother and her mother's boyfriend would later be arrested on murder charges over her death.
Ta'Naja was later cremated and Barnes remembered his daughter by carrying around her ashes with him in a micro urn. Because the state is a soulless machine which knows no limit to destruction and terror when carrying out the arbitrary war on drugs, Barnes' daughter's remains would be desecrated by police.
According to a recent lawsuit filed by Barnes against the City of Springfield, he was unlawfully detained on April 6, 2020 and during this unlawful detainment, he was searched.
According to the lawsuit, officers placed him in handcuffs while they searched his vehicle without consent, valid warrant, or probable cause. During this search without consent, police removed the sealed micro-urn from Barnes' vehicle that contained the ashes of his murdered daughter, unsealed it, opened it, and spilled his daughter out on the ground.
In the newly released body camera footage, we see that Barnes was pulled over for allegedly speeding when he was handcuffed and his vehicle searched.
"You got anything in your car?" an officer asks.
Barnes responded "Not really," before telling the officer he had marijuana. In the state of Illinois, it is not illegal to have marijuana on your person as they voted to legalize it recreationally in 2019.
Nevertheless, the officer used this as a reason to search.
When officers discovered the urn, they began running field drug test kits on it.
"I checked for cocaine, but it looks like it's probably molly," the officer said.
"X pills," the other added.
At this time, Barnes didn't know what was happening but he would soon find out that police had dumped his daughter's ashes out looking for non-existent drugs.
In the incident report, an officer wrote, "I have seen similar items like this before utilized to contain narcotics."
The officer then tells Barnes that his daughter's ashes tested positive for meth or ecstasy and told him he was under arrest.
Barnes was confused as he had no drugs in his car so he asked the cop what he was talking about. An officer then shows him the urn.
"No, that's my daughter!" Barnes yells as he tries to reach for the urn.
"This is his daughter's ashes that Reibeling thought tested positive for meth," the officer said.
The officers were about to test it again but Barnes was so distraught they believed him. After being handcuffed in the back of the car for 21 minutes and watching police desecrate his daughter's remains, Barnes was released.
After Barnes was released, the body cameras kept rolling and captured the officers' disgusting exchange.
"I'm just gonna give him a notice to appear on the weed," one cop said.
"OK, aside from pissing off dad and testing the dead baby ashes?" the other responded.
Naturally, when police responded to the lawsuit, they claimed qualified immunity saying "their conduct was justified by an objectively reasonable belief that it was lawful."
Sadly, this is the norm, not the exception and this is not the first time officers have mistaken cremated remains for illegal drugs.
As The Free Thought Project reported in 2018, a heartbroken father who carried a vial of his dead daughter's ashes with him everywhere he went, lost the majority of the substance when he was stopped for not having a front license plate, and the officer thought the vial contained drugs.
Anthony Butler told the Chicago Tribune that he does not remember specifically giving consent for a field drug test on the ashes, but he made it clear to the officer that the vial contained the ashes of his dead daughter, and he begged the officer not to dump them out.
While conducting the search, the officer put Butler in handcuffs and forced him to wait in the back of the patrol car. When a test confirmed that the white powdery substance was not narcotics, he let Butler go.
When Butler returned to his car, he found the vial on the console between his front seats and the inner cap was missing from it. The outer cap was not secure, and as soon as he picked it up, the remains of his daughter's ashes spilled out all over his car.
Like Barnes, Butler was innocent when his daughter's ashes were desecrated by police.