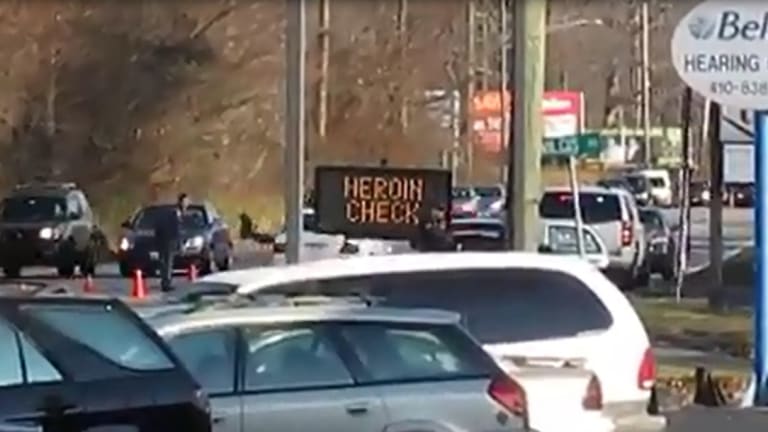 Cops Set Up Multiple "Heroin Checkpoints" Search Every Car with K-9s - Media is Silent
Thousands of innocent motorists were subject to unconstitutional searches and seizures Tuesday in a massive and unannounced police crackdown.
Harford County, MD - All major routes coming in and out of Bel Air, Maryland were blocked by police this Tuesday, who set up checkpoints and searched cars with drug dogs. Cars were searched in the operation all day long, and it was not reported by any local news media and was not announced by the police department.
Many people had suspected that police were out in strong force ahead of the Thanksgiving holiday weekend, searching for drunk drivers. However, witnesses reported that the police were actually in search of drugs, specifically heroin, and they even had massive construction signs posted that said "Heroin checkpoint ahead, Drug K9 In Use."
Readers of The Free Thought Project reported close to a dozen different checkpoints in Harford County, each of them at major intersections during heavy traffic hours. Sadly, there was very little public outcry about the checkpoints, and many people were actually praising the police because of the fact that heroin is legitimately a problem in the area.
However, checkpoints like this are a blatant violation of everyone's rights, even people who think that they have "nothing to hide," and it won't even achieve its stated goal of keeping drugs out of town. Our readers told us that they witnessed several arrests, although it is unclear whether or not these arrests were related to heroin. It is likely that police were making any arrests and writing any tickets that they could while they had the checkpoint set up, even if it was for something like marijuana possession or driving with expired tags.
Heroin addiction is a serious problem, but as counter-intuitive as it sounds, the best way to prevent heroin overdoses is to actually legalize it. Certain areas of the world, like Portugal, where all drugs have been made legal there are far fewer overdoses than there are in prohibition countries. The Washington Post reported earlier this year that drug overdoses are extremely rare in Portugal, and they have some of the lowest rates of addiction in the world.
As I explained in an earlier article, there are many external factors that are affected by the drug war that many people don't take into account. That is because when you carry out acts of violence, even in the form of punishment, you then create a ripple effect which extends far beyond the bounds of the original circumstance to affect many innocent people down the line. The list in my previous article delves into those external factors to illustrate how drug users and non-users alike would be a lot better off if prohibition ended immediately. The list includes the following advantages of full legalization:
(1) Reduce violent crime
(2) Improve seller accountability and drug safety
(3) Reduce drug availability to children
(4) Reduce nonviolent prisoner population
(5) Real crime can be dealt with
(6) Encourage genuine treatment for addicts
(7) Prevent drug overdoses
(8) Protect individual rights
The following video was taken on RT 1 near Fork Auto Body, by Rob McLewee.
" width="790" height="444" frameborder="0" allowfullscreen="allowfullscreen">
John Vibes is an author and researcher who organizes a number of large events including the Free Your Mind Conference. He also has a publishing company where he offers a censorship free platform for both fiction and non-fiction writers. You can contact him and stay connected to his work at his Facebook page. You can purchase his books, or get your own book published at his website www.JohnVibes.com.