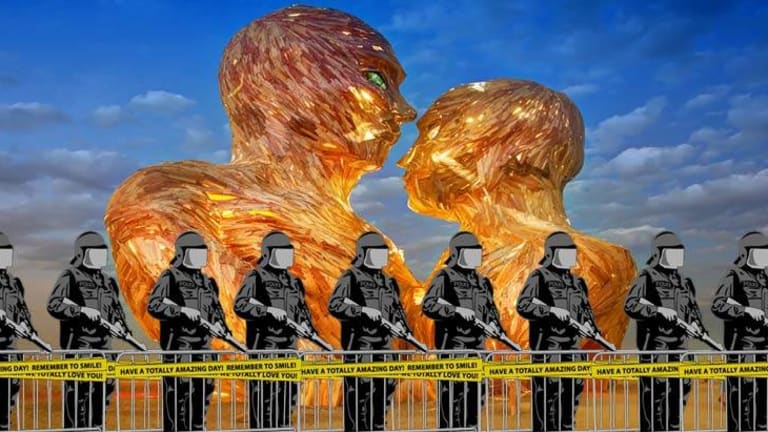 Sheriff's Department Promises to Turn 'Burning Man' Festival into a Police State
New sheriff vows to crack down on party-goers who'd dare to do with their own bodies what they wish.
Pershing County, NV -- There is a new sheriff in town in the Burning Man jurisdiction, and he promises more arrests than ever at the world-famous music and arts festival next week.
Pershing County Sheriff Jerry Allen admitted that there would be more nonviolent "crime" at the festival than the police will be able to deal with, but they are determined to write as many tickets and make as many arrests as they possibly can.
"We don't have the personnel to issue citations to 70,000 naked people on the playa, but we will be upholding the law to the best of our ability,"Allen told the Associated Press.
While the former sheriff Richard Machado was known to be somewhat hands-off during the festival, Allen is committed to cracking down on the peaceful partiers, hiring more officers than ever for the annual event.
In previous years, burners had to be more concerned about Bureau of Land Management (BLM) a federal organization tasked with patrolling the event. Now, along with the BLM, burners will now be facing a local police department that is foaming at the mouth to throw them in cages.
Sadly, the organizers of the festival are not standing up to protect their customers but are cooperating with the police and allowing this to happen.
"We've been working with (Allen) since his election, and he's been involved with all of the large coordination efforts. It's an ongoing process on education, but he hasn't been out there for a few years, so he hasn't seen the progress we've made in recent years," Burning Man spokesman Jim Graham said.
Burning Man organizers are facing problems of their own with the Nevada government. They may be moving out of the state next year, now that legislators have passed a new tax specifically targetting the festival, adding a 9% tax onto ticket sales.
If the festival moves, which it should, they must consider private land in order to keep their customers safe from the police. By organizing their event in a public space, as they do now, they are allowing police and federal agencies to prowl the land without any restrictions. If the event were held on private land, however, as many festivals are, they would be able to prevent the police from entering, or at the very least be in total control of the police presence at the venue.
The festival is scheduled to take place August 30th through September 7th.
John Vibes is an author, researcher and investigative journalist who takes a special interest in the counter-culture and the drug war. In addition to his writing and activist work, he organizes a number of large events including the Free Your Mind Conference, which features top caliber speakers and whistle-blowers from all over the world. You can contact him and stay connected to his work at his Facebook page. You can find his 65 chapter Book entitled "Alchemy of the Timeless Renaissance" at bookpatch.com.