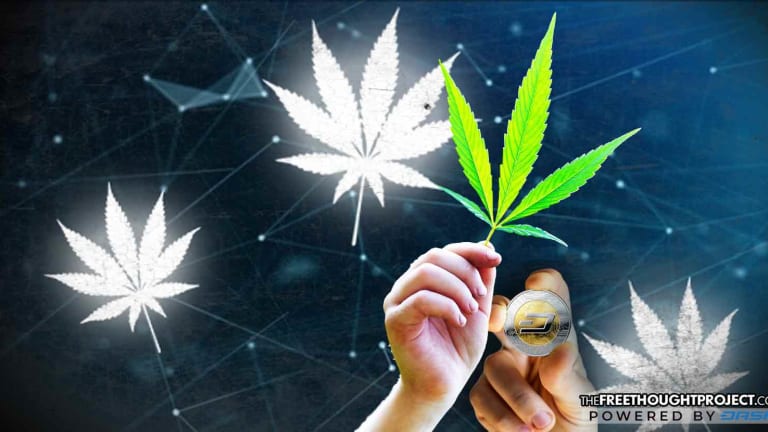 Scientists, Funded By Crypto, Using Blockchain to Stop Monsanto from Taking Over Cannabis Industry
A group of scientists is using blockchain technology to stop Monsanto from patenting cannabis strains.
As The Free Thought Project reported last week, blockchain startups have been offering interesting solutions for the cannabis industry, which is facing strict regulations from the government, as well as constant take-over attempts by large corporations.
One major concern of cannabis advocates is the possibility of large biotech corporations like Monsanto patenting seeds or even DNA for different strains. A creative solution to this problem is a sort of cannabis genome project, in which researchers use technology that gathers the genetic information of the plant. Medical Genomics, the group behind the project, is publishing all of their results at Kannapedia.com using their StrainSEEK Identification and Registration service.
Medicinal Genomics is a 15-person start-up best known for first sequencing the cannabis genome and open sourcing its genome as a scientific charity to the world.
According to their website:
"Kannapedia will provide the identity, heritage, and chemistry of the cannabis and hemp plants that have been tested using the StrainSEEK service. For the first time, growers, consumers, patients, and clinicians will be able to identify the exact strain and key characteristics of the cannabis and hemp they are purchasing, enabling confidence in the quality and reliability of the product."
In addition to protecting strains of cannabis from corporate patent trolls, this registry will provide vital information to customers so they can finally know exactly what they are getting. Despite the fact that most dispensaries attempt to provide information about their products, that information isn't always reliable and it isn't easy for a customer to actually verify the quality of their purchase.
Kevin McKernan, Cheif Scientific Officer of Medical Genomics, said in a recent proposal to Dash that he wants to integrate his research with blockchain technology.
"Some jurisdictions are discussing mandating DNA fingerprinting of mother plants to enhance the seed to sale tracking system while IBM is publishing whitepapers encouraging the cannabis industry to adopt blockchains. We have also published our own whitepaper on the importance of genomic information in any Cannabis Blockchain and the enhanced utility delivered with DNA fingerprints. A barcoding system based on genetics offers maximal scientific utility to the grower and user community compared to the present RFID tag via arbitrary number barcoding systems," McKernan said.
Medical Genomics and its partner organizations are now a part of the Dash network and will be integrating all of the information on Kannapedia over to the Dash blockchain and it is all being funded by Dash.
In the video below, from the Texas Bitcoin Conference last year, McKernan explains his research:
Another one of the biggest issues faced by the cannabis industry is the fact that it is still strictly a cash business since they are unable to collect credit card payments and are blocked off from traditional banking.
Cryptocurrency offers a great solution to these problems, and many cannabis businesses are beginning to adopt the technology out of necessity. Since blockchain technology is still developing, the point of sale options for retail locations have been slim, but a new platform called Alt Thirty-Six is hoping to change that.
Last week, Alt Thirty-Six announced a partnership with the cannabis software company WebJoint, which they say will allow for more widespread cryptocurrency adoption in cannabis retail locations. As with the cannabis genome project, this partnership was made possible by the Dash nodes.
Earlier this month, The Free Thought Project reported that this technology is making it possible for an entire town in New Hampshire to accept cryptocurrency. In the town of Portsmouth, the currency of choice is Dash, since it works perfectly as a point of sale payment system, with instant transfers and low fees. Last year, the city became the first in the state to install an ATM machine that offered services for Dash.
In addition to being a cheaper and faster alternative to Bitcoin, Dash also invests in various projects, both charitable and professional, to spread the word about this technology and to show its true potential. In addition to funding alternative media, Dash has also funded youth programs in Africa and food charities in Venezuela.