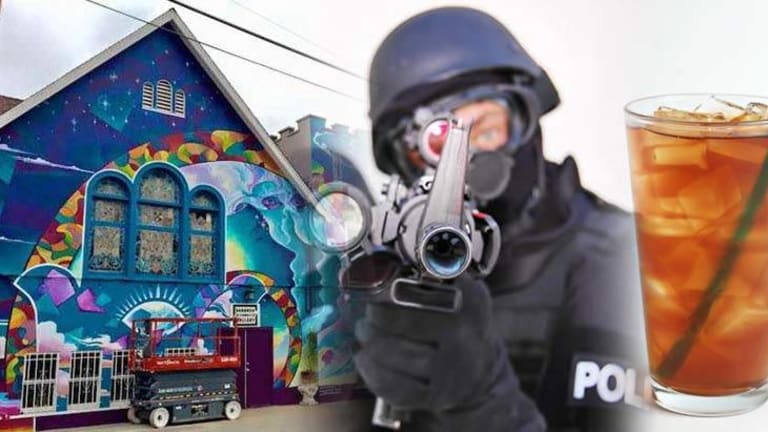 Spiritual Organization Founded By Former Actor Raided For Serving Tea without a Permit
Law enforcement officials kept Californians safe from the dangers of people voluntarily drinking a popular tea called Kombucha as they raided an organization during a fund raiser.
Venice, California - Last week, undercover agents with the California Department of Alcoholic Beverage Control raided a spiritual organization under suspicion that they were selling Kombucha which exceeded the legal alcohol limit.
The Full Circle spiritual center on Rose Avenue in Venice is a holistic gathering place founded by former actor Andrew Keegan. According to police, an anonymous informant told them that the spiritual center was serving Kombucha, fermented tea, without a permit.
In the raid last Friday, police confiscated several containers of the tea and issued the business a citation for serving alcohol without a liquor license.
"We're a complaint-driven agency, so when someone notifies us about what might be an illegal activity, we respond to it. They were cited for a misdemeanor for selling alcohol without a license,"ABC agent Will Salao told Argonaut News.
However, members of the church say that the raid was unfounded and that the Kombucha is not an intoxicant.
"They may be a complaint-driven agency, but we're an intention-driven organization and our intentions are pure," founder Andrew Keegan said.
"Kombucha is something we'd never imagine to be an illegal substance, and it's frustrating the system has that perspective. We're certainly taking full responsibility for co-creating the event. We try to put our best foot forward. We wanted to raise money for Sea Shepherd as a community; that's how Full Circle operates," Keegan explained.
The raid took place during a non-profit fundraiser, and although it is nearly impossible to get drunk off of their Kombucha, it is still fermented enough to where it is legally considered alcohol, thus requiring a licence for sale and distribution.
The alcohol content of their Kombucha Dog tea is almost 0.5%, explains their website, and "it is not possible to get drunk by consuming even large quantities of kombucha in a short period of time."
As a comparison, soy sauce contains more than four times the alcohol of kombucha due to the similar fermentation process. Yet sushi restaurants aren't being raided for distributing soy sauce to minors.
Andrew Keegan is no stranger to police. In 2011 he was assaulted by LAPD on the 4th of July, handcuffed and eventually let go with no arrest.
John Vibes is an author, researcher and investigative journalist who takes a special interest in the counter culture and the drug war. In addition to his writing and activist work he organizes a number of large events including the Free Your Mind Conference, which features top caliber speakers and whistle-blowers from all over the world. You can contact him and stay connected to his work at his Facebook page. You can find his 65 chapter Book entitled "Alchemy of the Timeless Renaissance" at bookpatch.com.