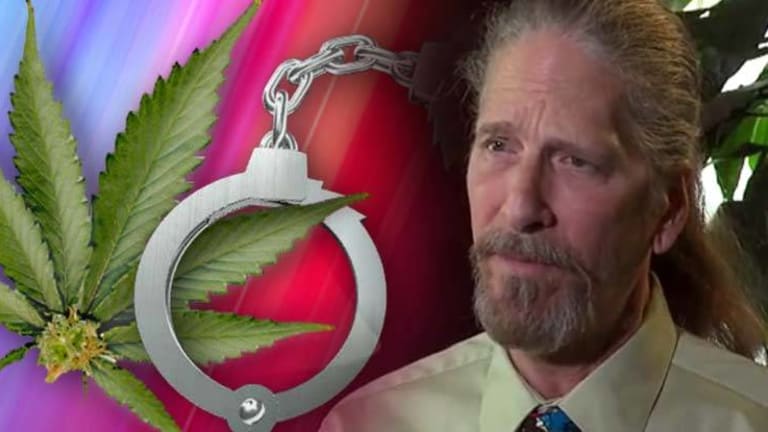 Terminal Cancer Patient Admits Breaking the Law to Take Medical Cannabis
Given less than a year to live, this man chose to break the law in order to survive by treating his cancer with both chemo and cannabis.
Camp Hill, PA – Initially hiding his identity to protect himself and his family from the state and federal government, a 56-year-old man diagnosed with stage 4 cancer chose to reveal himself on Tuesday in order to publicly tell state lawmakers how an illegal medical treatment helped save his life. Although the government has determined that cannabis kills cancer cells, further research is restricted due to the fact that marijuana remains a Schedule I drug along with heroin, LSD, and bath salts.
Diagnosed with stage 4 bile duct cancer in March 2015, Randal Ray Robertson was told he had a two percent chance of survival with the probability of only living another nine to eleven months. After the cancer spread to Robertson's lungs and liver, one of his doctors suggested medical marijuana even though the drug is illegal for medicinal use in Pennsylvania. As the chemotherapy treatments completely emaciated Robertson, he decided to break the law in a desperate attempt to save his life.
"If you can't eat, you can't heal. If you can't sleep, you can't heal. If you can't digest your food properly, you can't heal. Pharmaceutical medications are designed to shut your system down, that's what they do, marijuana does not do that," his wife, Molly Robertson, told ABC27.
After three months of vaping and eating cannabis oil made by his wife, Robertson returned to his doctor and found that all of the cancer in his lungs was gone and the tumors in his liver had either disappeared or ceased growing. Undergoing several rounds of chemotherapy, Robertson has also attributed his gain in weight and lack of hair loss to medical marijuana.
When asked if he felt high on cannabis oil, Robertson responded, "Yeah, I definitely guess I would be high, but if I was on morphine, which is what I had to be on before, I would not be talking to you. I would be on the couch drooling. With this oil, I am completely off pharmaceuticals and I can function. I can get up in the morning and make myself breakfast and walk my dogs. So, I think this is a lot better than sitting on the couch drooling."
During his recent CAT scan, Robertson discovered that his lungs were still clear, and the tumors in his liver had resolved. Completely aware that they were breaking both federal and state laws, Robertson's wife admitted, "We could have gone to jail when we were actually using it. I mean, we were in jeopardy, but we had such amazing results that we had to step out."
According to the National Institutes of Health (NIH), cannabis has been studied in the clinic and found that it may have benefits in treating the symptoms of cancer and the side effects of cancer therapies. Cannabis has also been shown to kill cancer cells in the laboratory. Although the FDA has approved two cannabinoids (dronabinol and nabilone) for the prevention and treatment of chemotherapy-related nausea and vomiting, the FDA still has not approved cannabis as a cancer treatment.
While supporting the need for more scientific research on cannabinoids, the American Cancer Society recognizes the necessity "for better and more effective therapies that can overcome the often debilitating side effects of cancer and its treatment. The Society also believes that the classification of marijuana as a Schedule I controlled substance by the US Drug Enforcement Administration imposes numerous conditions on researchers and deters scientific study of cannabinoids. Federal officials should examine options consistent with federal law for enabling more scientific study on marijuana."
In a cogent elucidation of mounting frustration at our procrustean bureaucracy, Molly Robertson declared, "I cannot figure out why on one hand our government would say look at all the uses cannabis has and on another hand say it is a Schedule I drug with no medical value. That is wrong. It needs to be changed."
Urging Pennsylvania legislators to legalize medical marijuana, Robertson's daughters also posted a video on Facebook asking Vice President Joe Biden to remove marijuana's Schedule I status in order to further research for other cancer patients. Supporting the legalization of medical marijuana, his daughter Becca Robertson explained, "I don't want someone to lose their dad, or their child, or a family member, or loved one because almost having that happen to me is a pain that I would never wish on somebody else."
Andrew Emett is a Los Angeles-based reporter exposing political and corporate corruption. His interests include national security, corporate abuse, and holding government officials accountable. Andrew's work has appeared on Raw Story, Alternet, Activist Post, and many other sites. You can follow him on Twitter @AndrewEmett and on Facebook at Andrew Emett.