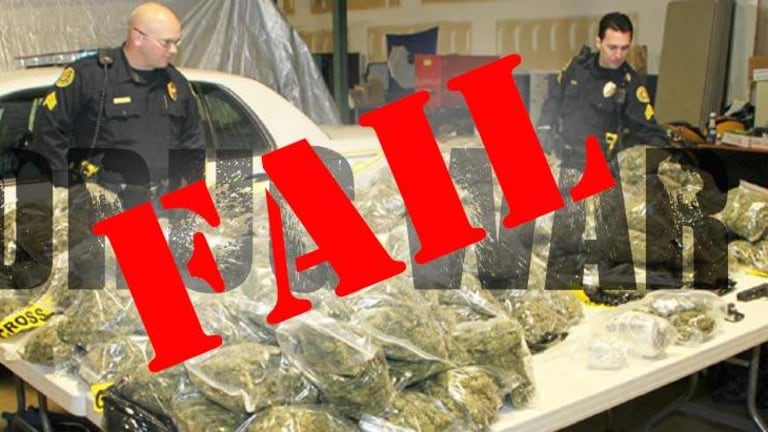 "We've been a Dismal Failure," Cops Say Its Time To End The Drug War And Admit They Lost
Richmond, Virginia - Veteran police officers in Virginia recently gave strong public support for ending prohibition at a meeting this week.
This Tuesday, The Governor's Task Force on Prescription Drug and Heroin Abuse met in Richmond to discuss the current strategies used in the drug war. At the meeting, Galax Police Chief Rick Clark Jr. made some very strong comments in support of drug legalization and even admitted that the government has lost the drug war.
"We've been a dismal failure. We've missed the mark. I don't think we can throw money at it. Obviously we have not arrested our way out of this," Clark said.
Other veteran officers at the meeting shared his sentiments. Virginia Beach Police Chief James Cervera, for example, said that "We had a war on drugs. We've lost miserably. That's the best I can tell you."
Believe it or not, even Virginia Governor Terry McAuliffe agrees that the drug war is a failure, although he would not come out and say it in those terms.
McAuliffe admitted that despite kidnapping, caging and killing people, drug use has gone up.
Responding to the criticisms, McAuliffe said that, "Heroin and prescription drug abuse have really reached epidemic proportions here in the commonwealth. Deaths from prescription overdoses have doubled in the last 15 years. Deaths from heroin overdoses doubled in the last two years. The problem has put additional burdens on the law enforcement community as well as the health care costs of emergency and long-term-care treatment. It's so important that we stop the increase in addiction and overdose and reverse this very terrible trend."
Overall, more and more people across the country, even members of the establishment, are beginning to admit that the drug war is more of a problem than the drugs are.
However, the state is not loosening up on their drug laws any time soon. The only effort that the state has recently made towards legalization is a new "good samaritan" law which gives legal protection to people who bring friends to the hospital when they are overdosing. Even that law doesn't go far enough though because it still requires the person to be charged and appear in court.
"This law allows an individual to call for help, and in the event the caller is charged on the basis of an officer's observation ... then that person can assert an affirmative defense that he or she was not the dealer. It's not immunity. You have to plead it. You haveto in essence say, 'I assume the facts as charged, but this is in fact why I am not guilty,'" Richmond's commonwealth's attorney, Michael Herring said.
Although the laws are just slowly moving in the right direction, the mindset of the general population and even law enforcement is beginning to shift drastically when it comes to the war on drugs.
John Vibes is an author, researcher and investigative journalist who takes a special interest in the counter culture and the drug war. In addition to his writing and activist work he organizes a number of large events including the Free Your Mind Conference, which features top caliber speakers and whistle-blowers from all over the world. You can contact him and stay connected to his work at his Facebook page. You can find his 65 chapter Book entitled "Alchemy of the Timeless Renaissance" at bookpatch.com.