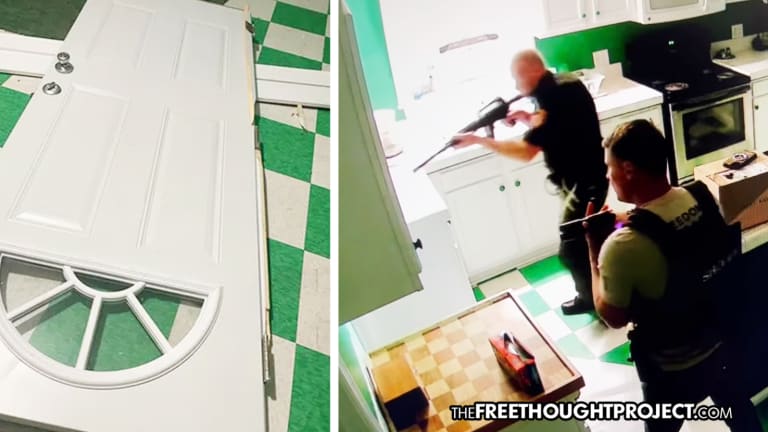 WATCH: 'Hero' Cops Raid Rapper 'Afroman' To Protect Society from His Legal Hemp Flower
Cops are seen with bulletproof shields, AR-15s, and tactical gear, to steal some hemp flower from Afroman.
Joseph Edgar Foreman, better known by his stage name Afroman, watched his career blow up in 2000 when he released the song "Because I Got High." The song became an instant classic and helped to propel his career for years to come. Because he sang about marijuana, however, law enforcement — infected by reefer madness — have targeted him over the years.
While Afroman was in Chicago over the weekend, earning a living by playing music, deputies with the Adams County Sheriff's Department were kicking in his door, searching his belonging, and destroying the inside of his home — in what Afroman refers to as a "witch hunt."
The rapper told TMZ that while he was in Chicago, his neighbors notified him that he had badged burglars in his home so they took to filming and photographing the raid. Multiple cop cars are seen outside, his door flattened on the floor, his belongings thrown all over the home — so cops could confiscate his hemp flower and a vape pen.
"While I'm out here working and paying taxes the. Adams county sheriff department is at my house kicc-ing in my door and stealing my money," he said on Instagram.
Afroman suggested that he was profiled for his music and that his attempt to report a burglary to the same department may have led to the raid.
"One time my house got burglarize while I was on tour. For home insurance purposes I tried to fill out a police report. The cop came out three days later he told me they was really busy. He took my report. I would call every day and see if there was any progress being made. The Adams county sheriff department threaten to arrest me for checc-ing up on the case too frequently."
Afroman said police couldn't have cared less about solving the crime that happened to him — and he expected that — but when it came to raiding his home over a legal plant, they were all about it.
"I excepted the fact that the police department is not necessary here to protect and serve me a blacc man in America so I just took my loss and never called bacc. Now here they are kicc-ing in my door looking for weapons of mass destruction and 100,000,000 pounds of weed lol wow Donald Trump calls these investigations witchhunts."
According to rapper, police destroyed his home looking for non-existent drugs and guns and all of it was captured on surveillance footage inside the home. Cops are seen with bulletproof shields, AR-15s, and tactical gear, to steal some hemp flower from Afroman.
"All in my bedroom messed up my bedspread. Where is the guns ? Where is the dope ? What if you don't find anything ? Are you going to make my bed back hang my suits bacc up ? Put my door bacc on the hinges ? Does anybody have Ben Crump's phone number ?" he asked referring to civil rights attorney Benjamin Crump.
Afroman told TMZ that after the raid, the only thing the officers found was a jar of hemp flower and a vape pen.
"They took like some roaches and a vape pen and a jar of CBD," he told TMZ. "I think they thought I had hundreds and thousands of pounds or something like that... They really didn't have to run up my driveway with AR-15s and all kind of assault weapons, but I would have gladly just given that to them. So, I don't know... just for those few things, they could have just asked me for that."
So far, according to the rapper, he hasn't been charged with a crime and police are only asking him to come in to make a statement about the raid.
Below is an example of why the war on drugs needs to end today.