Alexis Levinson
Daily Caller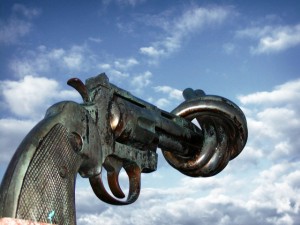 Knotted gun sculpture at United Nations Headquaters in New York City, NY, USA
The White House announced two new executive actions Friday that would expand the government's access to mental health information during background checks on gun buyers.
The two new actions clarify what constitutes a mental health problem that might prohibit gun ownership and allow states more wiggle room in disclosing such personal medical information.
One executive action frees states from some of the privacy laws that prohibit the disclosure of patients' medical information, allowing institutions to input mental health information relevant to gun ownership into the National Instant Criminal Background Check System, otherwise known as NICS.
DASH cryptocurrency and The Free Thought Project have formed a partnership that will continue to spread the ideas of peace and freedom while simultaneously teaching people how to operate outside of the establishment systems of control like using cryptocurrency instead of dollars. Winning this battle is as simple as choosing to abstain from the violent corrupt old system and participating in the new and peaceful system that hands the power back to the people. DASH is this system.
DASH digital cash takes the control the banking elite has over money and gives it back to the people. It is the ultimate weapon in the battle against the money changers and information controllers.
If you'd like to start your own DASH wallet and be a part of this change and battle for peace and freedom, you can start right here. DASH is already accepted by vendors all across the world so you can begin using it immediately.