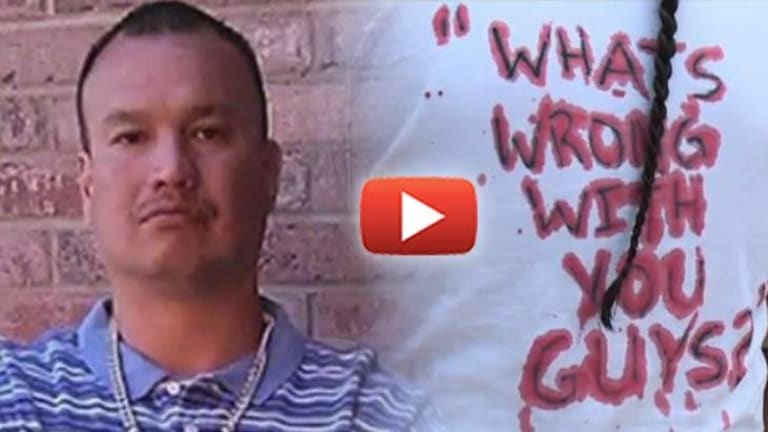 Cops Say they Killed a Man After He Charged at Them, But Witnesses, Video Show That's Not True
Protests erupt in Denver after surveillance video showed the police narrative of why they killed a man to be false.
Denver, CO -- Sunday night Denver Police shot and killed a man they say charged at him with a knife, but surveillance video proves that claim to be false.
Paul Castaway was in the midst of severe mental anguish when his mother called police for help. He had a knife and was threatening to harm himself.
According to Paul's mother, Lillian Castaway, her son suffered from schizophrenia and struggled with alcoholism. That night he had "poked her in the neck with the knife," she said. He then left their home while threatening to kill himself.
"I called the police for help, not to kill my son," she said.
When police arrived, however, 'help' was the only thing they didn't do.
In front of multiple witnesses, including children, a DPD officer opened fire on Castaway. He died on the spot, yet police still rolled his dead and bloody body over it and placed handcuffs on him.
"They shot him while the knife was still to his own throat," said Lillian.
One of the children spoke to the Denver Post and explained what happened. The child explained that Castaway was running when he came to a dead end and then turned to face the police who were in pursuit.
"He held the knife to his neck," the 15-year-old said. "He came close to them, and that's when they shot him."
The boy said Castaway asked officers, "What's wrong with you guys?" before he was shot. When he saw police shoot the man, the child fainted.
According to the boy's mother, Guadalupe Barrera, other children witnessed the shooting as well.
"He was probably trying to figure out a place to run. And they didn't let him go. They trapped him like a mouse, and they killed him," cousin Rick Morado said.
After the shooting, police initially said that Castaway had stabbed his mother in the neck and charged at them with a long knife, forcing the officer to shoot him. However, they later changed their story, saying that he only poked her with the knife leaving her with a superficial wound. Even this claim was disputed, as a neighbor told reporters that Lillian had no mark on her neck at all.
DPD has yet to release the officer's name who killed Castaway.
Paul Castaway is survived by his 3-year-old son.
Denver police are no strangers to killing, or lying. In May, the Free Thought Project reported on the story of a surveillance camera outside of a club which caught a Denver cop beating a man. Officer Choice Johnson said it never happened, however, the video showed that was a lie.
In January, Denver police shot and killed 16-year-old Jessica Hernandez after claiming that she tried to run them over in a car, witnesses disputed this claim.
Perhaps the police in Denver can take some lessons from police in the UK as they know how to stop a suicidal man with a knife -- without killing him.