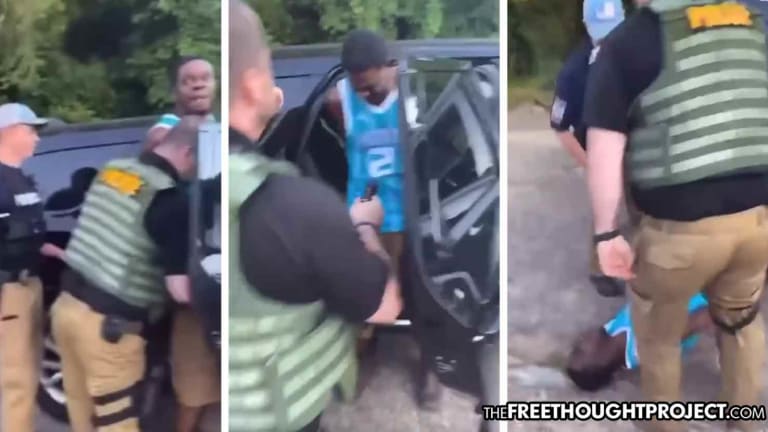 WATCH: Cops Claim Compliant Handcuffed Man Was a Threat, So They Tortured Him With a Taser
Police are conducting dishonest damage control after two officers were seen tasering a non-combative, handcuffed man for no reason.
Tallahassee, AL  — The Tallahassee Police Department in rural Alabama is conducting damage control this week as they respond to a video posted to Facebook showing their officers tasering a handcuffed man who was absolutely no threat. Perry Jackson, who may or may not have deserved to be held accountable for his actions, will likely now be rewarded with a hefty settlement after his rights were violated by Tallahassee's finest.
According to N.T. Buse, the chief of police in Tallahassee, officers responded to reports of "shots fired" in the area on Sunday before sighting Jackson, who was reportedly wanted for failure to appear.
"Upon arrival on the scene, Tallassee Police found a large crowd of individuals gathered in what appeared to be a physical altercation. Contact was made with the victim, who identified two possible suspects who potentially fired a shot in her direction. While obtaining information from both parties," said Chief Buce.
"Officers had previous knowledge Jackson had a current outstanding warrant with the Tallassee Police Department. The warrant was confirmed through dispatch, and officers attempted to take Jackson into custody. Jackson attempted to flee from officers, but after a brief foot pursuit, Jackson acquiesced and was taken into custody. Jackson was escorted to a patrol car, where the officers attempted to perform a pat-down search for any weapons," Buce told WRBL in a statement.
Police then claimed that Jackson was "turning away" which was not at all apparent in the video but nevertheless used to justify the escalation of entirely unnecessary force.
"Still, Jackson continued to turn away," Buce said, adding that Jackson "failed to comply with the officer's commands to sit down in the patrol car. During this exchange, Jackson threw his cell phone, striking the arresting officer in the face."
Exactly how a man in handcuffs — backed up against a patrol car — can somehow throw a cellphone at an officers face is unclear. It is also unclear if it actually happened as there is no evidence of this on the video — nor do either of the officers appear to react to being hit with a cellphone. But they still used it as a reason to taser a handcuffed man.
"This time, the officer retrieved a taser from his backup unit and warned Jackson to sit down and comply or be tased. When Jackson refused to comply with the officer's commands, the arresting officer deployed his taser. Jackson was transported to Tallassee Community Hospital, where he was examined and treated. Aller being cleared by an hospital staff, Jackson was transported to the Elmore County Jail and charged with Failure to Appear and Harassment. Jackson is assumed innocent until proven guilty in a court of law," said Buce.
Jackson's family told WRBL that they are now in talks with lawyers to discuss legal action against the officers. Neither of the officers involved have faced any discipline and judging from the chief's statement, the idea of discipline or accountability is highly unlikely.
Below is a video of cops doling out street justice. Their inability to contain their rage with a verbally combative suspect will cost everyone in the town except for the officers themselves.