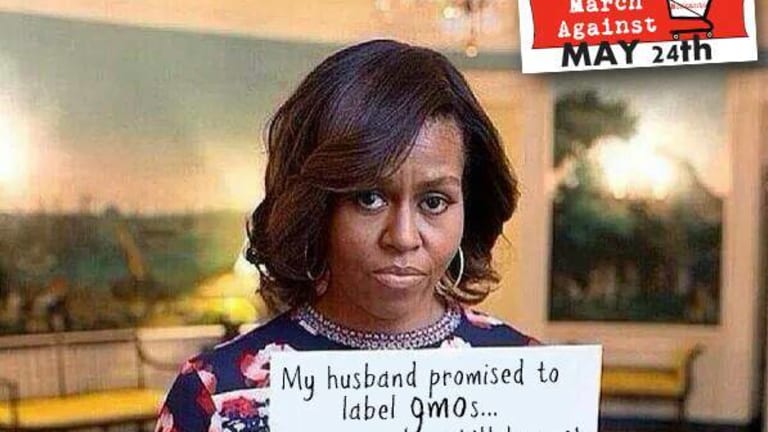 Hey Barack Obama, Remember When You Promised to Label GMOs?
"Here's what I'll do as president … We'll let folks know if their food has been genetically modified, because Americans should know what they're buying."

May 10, 2014

While on the campaign trail in 2007, Barack Obama promised to label GMO foods if elected.


In a letter sent this past January, to President Barack Obama, more than 200 consumer advocacy groups and food companies say the Food and Drug Administration already has the authority under current law to set such labeling standards.

"In 2007, you pledged to give consumers the right to know if their food is genetically engineered," the groups write. "National polls show that 93 percent of Americans share your view."

If his GMO promise is anything like the following broken promises, people shouldn't hold their breathe.

#1 "If you like your doctor, you will be able to keep your doctor. Period. If you like your health care plan, you will be able to keep your health care plan. Period. No one will take it away. No matter what."

#2 "My administration is committed to creating an unprecedented level of openness in government."

#3 "We agree on reforms that will finally reduce the costs of health care. Families will save on their premiums…"

#4 "I don't want to pit Red America against Blue America. I want to be the president of the United States of America."

#5 "We've got shovel-ready projects all across the country that governors and mayors are pleading to fund. And the minute we can get those investments to the state level, jobs are going to be created."

#6 "And we will pursue the housing plan I'm outlining today. And through this plan, we will help between 7 and 9 million families restructure or refinance their mortgages so they can afford—avoid foreclosure."

#7 "I will sign a universal health-care bill into law by the end of my first term as president that will cover every American and cut the cost of a typical family's premium by up to $2,500 a year."

#8 "We reject the use of national security letters to spy on citizens who are not suspected of a crime."

#9 "For people with insurance, the only impact of the health-care law is that their insurance is stronger, better, and more secure than it was before. Full stop. That's it. They don't have to worry about anything else."

#10 "We will close the detention camp in Guantanamo Bay, the location of so many of the worst constitutional abuses in recent years."

Well?